TCAT - The Prairies, Province of Alberta
Welcome to Alberta – Wild Rose Country. When most people think of Alberta they think of the Rockies, but as you're about to find out there is reason they call Alberta one of the prairie provinces. There's a lot of empty space in this province!
However, you don't start out your time in Alberta in the wide open prairie, but rather in the semi-forested high altitudes of the Cypress Hills. About 2 km (1.3 mi) west of the Alberta-Saskatchewan border you turn left. This curvy road takes you through some forest and up a twisty climb onto the open plateau at the top of the Cypress Hills. These are some of the highest elevations in the Hills at around 1400 m (4600 ft). If you have time to head south a few miles you will be rewarded with some spectacular views of wide open slopes and miles of emptiness. However, the route takes you west from here down a hill to a little creek.


Be careful, as this creek has a concrete pad poured in it to help with crossing, and this pad tends to build up a layer of slippery algae – as I found out the hard way one day.
https://www.youtube.com/watch?v=9nnungtxCTA
Climbing back up onto the plateau, you will soon head north and hook up with the narrow paved road running along the Hills. Then you'll head west and after crossing highway 41 you will drop down into the town of Elkwater.


Elkwater has a few small restaurants, a hotel that rents small cabins as well as rooms, and a gas station that is usually open Sundays in the summer months. There is also a large campground with heated restrooms and showers. Elkwater Lake is on the north edge of town, and has a small beach and cold water unless you're there late in the summer.
You'll head out of town to highway 41, and north 3 km to the next road. Turning west, you'll follow a wide gravel road between the hills to Eagle Butte. Once you get to the top of the hill you'll see a whole lotta nothing in front of you. Turn around for a nice view though.


Riding down into the prairie, the curving roads lead back to the grid roads, and you will soon find yourself riding straight west across wide open spaces. Eventually the route picks up a canal road for a short distance and then turns north, taking you into the town of Bow Island, which has food, gas and lodging.
While there are some nice dual-sport roads northwest of Bow Island, they are all either dead-ends or they are marked "No Trespassing". For this reason the TCAT follows the pavement out of town and heads north up highway 879. As you approach the South Saskatchewan River you can pull off the east side of the road into the river hills on the right.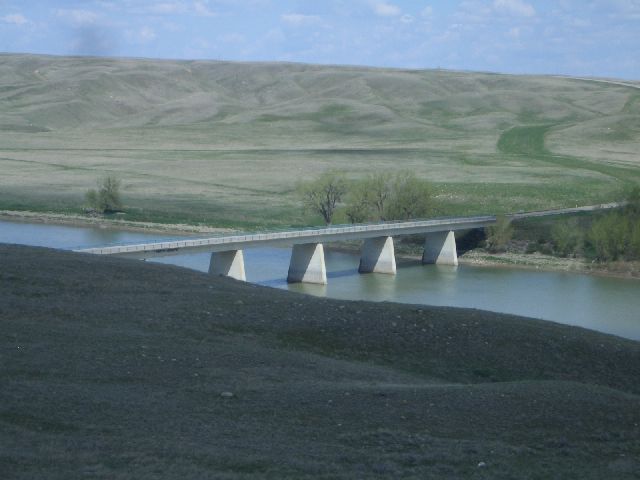 You'll head north up the highway and turn west on highway 524. Crossing the Bow River, you'll head to the top of the hill and turn into the "Hays Maze". The Hays Maze is a series of roads near the town of Hays that are arranged such that you can actually get lost in them. Be diligent with your navigation through this part of the route!
Heading south through the maze, you will eventually come to a point where the route turns east for a short distance and runs through a small loop where it doubles back on itself. This small loop takes you to the confluence of the Bow and Oldman Rivers, which is the point where these two rivers meet to form the South Saskatchewan.


From here you'll head down into the Oldman River valley, then back up again and northwest through the Hays Maze to the town of Vauxhall. Vauxhall has all services, and it's the last place for a long way on the route to pick up gas and grab a bite to eat, so take advantage of it.
You'll head northwest of Vauxhall about 3.3 km (2.1 mi) before picking up the canal roads again. Make sure to stay on the south side of the canal as you head west, or you'll end up backtracking to stay on the route. These canal roads are a lot of fun.


Follow the south side of the canal for 12.6 km (7.8 mi), and then cross the canal at Range Road 173 and ride on the north side. In another 4.7 km (2.9 mi) cross the canal again at Range Road 175 and ride on the south side again. Ride on the south side for 2.0 km (1.2 mi) and turn west onto Township Road 134. Ride west 3.7 km (2.3 mi) and then turn right onto the canal road again, riding on the east side of the canal. You will ride on this side of the canal for 27.6 km (17.2 mi), and cross to the south side of the canal when you get to highway 845. Follow the canal on this side for another 2.2 km (1.4 mi) and then climb the ridge in front of you up onto the gravel road and turn right.
From here you'll curve southwest towards the Travers Reservoir, then after a jog west on a grassy road you'll turn north.


You'll go north on the grid roads for several km, and eventually cut northwest across a large area of open prairie toward McGregor Lake. Please don't stray off of this trail, even though it looks like there's a ton of empty space to ride through.


The trail spits you out at Range Road 214, and you will follow this north and then turn off into the village of Milo. There is a small store here, but the only gas available is from a Co-op Cardlock on highway 842 at the north end of town, and I don't think there's a Co-op store that allows you to use their card here.
You'll jog west on the highway to the canal road, then get on the canal roads on the east side of the canal. These canal roads have been built up and should be quite fast, but beware the occasional tight corner, where you may slide wide into the canal, and occasional grid road crossing where there might be traffic.
As you near highway 547 you get to a point where you have to turn right, away from the canal. If you stay right and follow the road along the top of the ridge you reach a spot with a great view upstream along the Bow River.


Heading back to the main road you'll head down the hill through the valley.


Crossing highway 547 you'll find yourself back on the north side of the canal. As you approach highway 24 you will come to a spot where you take a sharp right, then a hard left to head down a hill into a wide valley.


Take a right when you get to the tee, and you will quickly arrive at highway 24. Turn right and follow highway 24 across the river and up to Carseland. There is fuel available at Carseland if you need some.
You'll head north out of town on Range Road 260. There are a few jogs and some great dirt roads across fields, but after 21 km (13 mi) you'll reach highway 1. You jog east 1.6 km (1 mi) on highway 1 and head north on Range Road 255. You'll turn right onto a canal road marked as "No Trespassing". I don't think there is an issue with passing through here on the canal road, but for those uncomfortable with riding through the sign you can easily detour south then east then north again on the grid roads to get on the same canal road one mile further east, where there is no indication of no trespassing.


From here the route meanders eastward on canal roads and grid roads, then northward to the village of Rockyford.
http://www.findingbrokeback.com/Rockyford/r04.htm
Apparently the rodeo grounds here were used in the movie "Brokeback Mountain".
http://www.findingbrokeback.com/New_Maps/Region_2_Frame.html
From here the TCAT heads east and north and then begins a series of passes through some terrific valleys. Finally you'll head into the Red Deer River valley at Rosedale, and head up the highway through the badlands to Drumheller. The following photo is not right on the route, but it is within a mile of the route and I needed a badlands picture.


Drumheller has a population of around 12,000, and is famous for dinosaurs. Many fossils have been found in the badlands, as erosion exposes the layers under the soil. The Royal Tyrrell Museum is world class, and is definitely worth a visit if you can spare the time.
Once you're done your Jurassic Park adventure you'll head out of Drumheller on the south side of the Red Deer River. Crossing through the valleys again you will head through the village of Carbon and west across highway 21. Following the grids west then south, you will ride a couple of short sections of canal road before turning west again on highway 566. The ride down highway 566 is probably one of the least interesting of the route, taking you straight along a paved road for 37 km (23 mi). You will cross highway 2 at the 26 km (16 mi) mark, and turn south on highway 772. Here you are just north of Calgary, and can head into the city if you require motorcycle maintenance or any services, or if you have people to visit.
http://www.blackfootonline.com/
http://www.bowcyclecalgary.com/
The route jogs north and west on several backroads north of Calgary and finally reaches highway 22, where you head north for 10 km (6 mi). You'll turn west again and ride some nice backroads into the tiny town of Water Valley, where there is gas and a small hotel/bar/restaurant.


Head west out of Water Valley on highway 579, known as the Harold Creek Road. You'll see the Rockies drawing near as you ride through the wide sweeping curves. The road narrows down and the curves become tighter, and finally tees into the Forestry Trunk Road. Turning south, you'll head down the Trunk road, with great views of the mountains on your right. The Trunk road takes you through the Waiparous off-road area, where there are many signed trails you can ride.


Some of these are navigable on bigger bikes, but many are tighter and rougher and more appropriate for 650 cc and smaller bikes. This is a great place to spend a day or two exploring trails if you have the time and inclination. A PDF of a trail map of the area containing information on where to camp and where to ride can be found here:
http://srd.alberta.ca/RecreationPublicUse/RecreationOnPublicLand/PublicLandUseZones/documents/Ghost-SmallMap-May08-2012.pdf
There's also a Garmin Mapsource GPS map showing the trails for the Ghost/Waiparous and McLean Creek areas near Calgary here:
http://allurecontracting.com/AlbertaPluzTrails.exe
(Note: The TCAT will take you right though McLean Creek as well!)
By the way, motorcycles are allowed on all trails, not just the ones marked for motorcycles. 4x4s are only allowed on trails marked as 4x4, and quads can ride trails marked as 4x4 and/or trails marked as Quad trails. Motorcyclists have the run of all trail types.
Continuing south, you'll come to a point where the Trunk road curves sharply to the left but another road continues on straight in front of you. The TCAT heads straight here, down the Ghost River Road. This portion of the route passes through the Nakoda First Nations Reservation, and there is a sign a bit further down the road that indicates no trespassing on the reserve. However, I have ridden through here many times, and never had a problem with the locals. Just remember to ride straight through, do not stray off the road, and be friendly and wave to the people you pass. If you prefer, the sign indicates you can call (403) 881-2613 and get a permit for access – do this ahead of time if you plan to do it. However, you are only on the reserve roads for about 7 km (4.5 mi), so it's up to you. If you just don't feel comfortable riding through and you don't have a permit you can follow the trunk road to the tee at highway 1A and then ride west on 1A to pick up the route again.


You'll come down to highway 1A and turn west.


The route is paved to Canmore from here, and it's a twisty ride with great mountain views.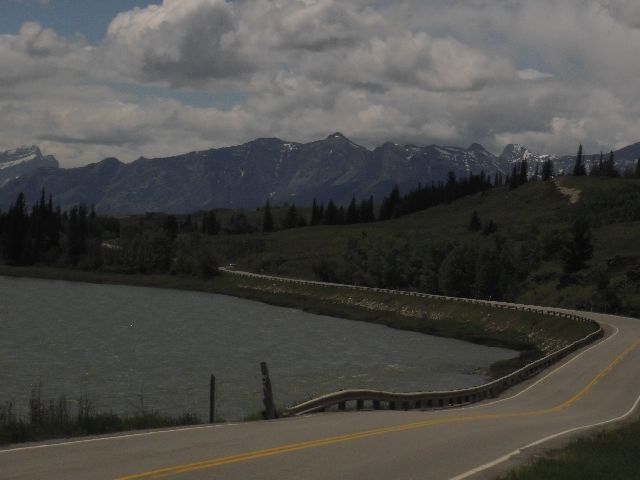 Canmore is just outside Banff National Park, and if you are looking to make a stop at Banff this is the closest point on the TCAT. Canmore is large enough that it has all services, although its proximity to Banff National Park means it is not the cheapest place to stay or eat. But the mountains here are really something.


Heading out of Canmore to the southwest, you take the Smith-Dorrien road toward the Spray Lakes. There are some great mountain views along this road.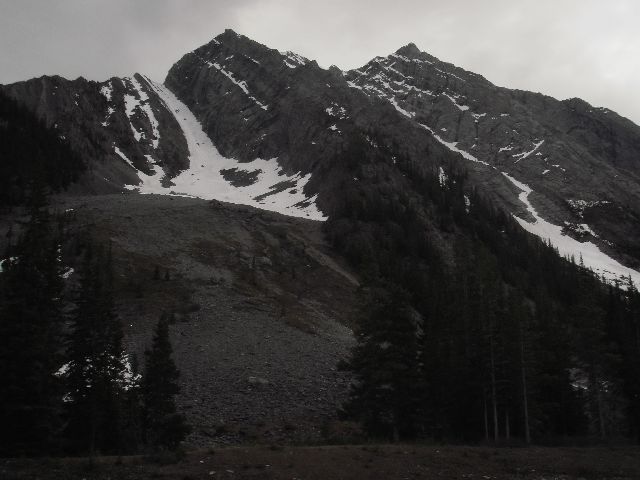 The Smith-Dorrien road takes you into Peter Lougheed Provincial Park and comes out at the Lower Kananaskis Lakes. There are some great campgrounds here, but I don't believe there are any restaurants nearby so if you're planning to camp either eat first or bring food with you.
http://www.albertawow.com/hikes/Lower_Kananaskis_Lake/Lower%20Kananaskis%20Lake.htm
If you plan to stay here either make a reservation or get in early, as during the summer months these campgrounds tend to fill up quickly. Also, this is grizzly bear country, so make sure to hang any food, toothpaste, deodorant, and anything else that might attract bears as high as you can in a tree some distance from your tent. Grizzlies can be very dangerous, and it's best to stay away from them. If you see one, back away slowly and remember it can outrun you. The campgrounds have messages posted about bear safety, and sightings are not that uncommon. These bear paw prints I found while out for a ride one day are about 15 cm (6 in) across.


You'll head north on highway 40, which, while paved, is a spectacular drive through some of the most incredible mountain ranges found anywhere. While you are enjoying the views, make sure to keep an eye on the road since deer, elk, and other wildlife are quite common here. In fact, not seeing some wildlife on this stretch is the exception, not the norm.
Just after you come out of the mountains turn east off highway 40 onto the Sibbald Creek Road. After 14 km (8.5 mi) the route splits off of the Sibbald Creek Road and heads south on Powderface.


Powederface is a narrow, twisty gravel road that rolls through the mountains, and it's a real treat on a dual-sport motorcycle. This road is extremely fun to ride, but don't get caught gazing too long at the views – the curves come up quick and can be tight. Also, there is occasional traffic on this road, so ride like there is someone coming around the next curve toward you.
At the south end of Powderface you rejoin pavement and head east toward Bragg Creek. After 19 km (11.5 mi) the route turns south into the McLean Creek off-road area. This is another major off-road vehicle area near Calgary, and a GPS map of the trails in McLean Creek is included with the Waiparous trails provided in a previous web link. Like Waiparous it can be very busy, especially on long weekends, when tent cities will spring up in the forest and traffic can be extremely heavy. It is best to try to ride through here on a weekday, if possible. PDF maps are available here:
http://srd.alberta.ca/RecreationPublicUse/RecreationOnPublicLand/PublicLandUseZones/McLeanCreekOffHighwayVehiclePLUZMapsPublications.aspx
Riding through the McLean Creek area, the road heads southeast and then curves to the east. When you reach the junction of highways 549 and 762, turn south. From here the TCAT winds its way through the foothills into Turner Valley, where food, fuel, and lodging is available if required.
Turning south at the Esso station, the route then turns east and curves south again, crossing the Sheep River. You'll take the backroads for the 13 km (8 mi) ride to highway 541, and then head into Longview.
Longview is famous for a few reasons. Several westerns have been filmed in the area, starring such actors as Kevin Costner and Robert Duvall. Brokeback Mountain also filmed in this area, and Ian Tyson, a famous Canadian country music singer and songwriter, has a ranch in this area and is often seen in town. If you're looking for a good place to stop and eat or sleep, Longview has a few decent choices. The Blue Sky Motel (403 558-3655) provides reasonable rooms at a reasonable rate. Make sure you're there early enough, as many of the restaurants close around 8:00 PM and even the saloon quits serving food after 10:00.


South of Longview the route loops to the east on several backroads, then heads south and back west toward highway 22. As highway 22 comes into sight again the route delivers a terrific view, worth stopping to take in.


Coincidentally, this is the location from which the opening shot of the movie "Brokeback Mountain" was taken. Plan for a photo op here, although when I took the picture above it was a cloudy, rainy day so the view wasn't quite as good as it can be.
From here the route follows highway 22 south to highway 532, which takes you west toward the mountains again. Highway 532 starts out as a wide gravel road, but becomes quite narrow and twisty further in, culminating in a twisty gravel road climb up to Windy Peak. As you crest the top of the climb keep an eye on the south side of the road – there is a spot where you can drive up onto the hill next to the road and get this view of the valley to the east.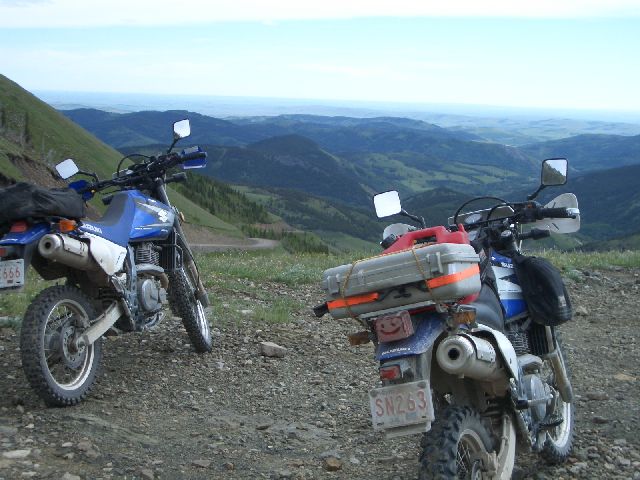 Once you've had sufficient time to take in the view (which can take a while) continue on highway 532. You'll descend from Windy Peak and join up with the Forestry Trunk Road again at the bottom of the hill.
Turning south, the TCAT follows the Forestry Trunk Road all the way down to Coleman, in the Crowsnest Pass. This ride is quite fast and twisty. There are several campgrounds, each separated by several kilometres along the road here, including Livingstone, Racehorse, Dutch Creek, and Oldman River. There are also trails in the area if you want to do some exploring, and the area is definitely worth riding. The Crowsnest Quad Squad has a pretty good map of trails in the area.
http://www.rockymountaincamping.ca/OldmanRiver.html
http://www.rockymountaincamping.ca/RacehorseCreek.html
http://www.rockymountaincamping.ca/LivingstoneFalls.html
http://www.rockymountaincamping.ca/DutchCreek.html
Remember, this is bear country. If you don't want a grizz in your tent in the middle of the night make sure your food, deodorant, toothpaste, and other sweet-smelling or greasy items are not near your camping spot.
Reaching Coleman, you'll turn west on highway 3. Just past Crowsnest Lake, 2.0 km (1.2 mi) before reaching the BC border there is a technical option to ride south through Ptolemy Pass. This technical section is reasonable to attempt on a big bike, like an R1200GS, but you should make sure you are not alone if you're on a bike that size. You may need a little help muscling it through a mudhole if it is a wetter year. If you can do this technical section, by all means do it. The views and trail are worth it!
Manitoba

Saskatchewan

Back to TCAT - Prairies Introduction