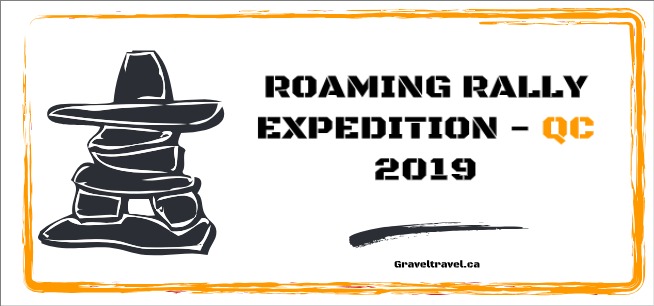 Roaming Rally Explorers – QC Edition 2019
Back for 2019 is the Explorers Edition of Roaming Rally!  It's hard to believe that there hasn't been an RRXE for 5 years, and based on feedback there are many riders thinking the same thing.  We took that feedback to heart and decided that it was time to bring the Explorers Edition of the Roaming Rally back!  
Designed for street legal dual sport and adventure bikes, the RRXE has a goal to explore remote places using non-paved roads whenever possible.  The emphasis is on exploring new areas and getting out into the backcountry on as much dirt and gravel as possible! We try to include a bit of everything each day, from dirt roads, atv and snowmobile trials, and some WOT gravel to get the adrenaline pumping!
The terrain may not be as technical as the Classic RR, but it will still challenge you and leave you grinning from ear to ear at the end of the day.  Unlike the Classic RR, you can leave your tent at home.  We'll be staying in remote hunting/fishing lodges like civilized people!  Waiting for us each night will be a cooked meal, full bar, hot showers, comfy beds, big breakfast in the morning, and fuel on the premises…we'll really be roughing it!
For 2019 we will be returning to Western Quebec, one of the more remote areas in Canada. We will travel hundreds of kilometers with nothing but wilderness.
Like the Classic RR, this edition is a team event. Riders need to be on a team with a minimum of 3 people. Teams are used with safety in mind. The reason behind the team strategy is that if someone gets hurt or breaks down, one team member can stay with the injured/stranded rider while the other team member(s) can deal with getting help.  We leave the maximum number of riders up to you, however we have found that more than 6 tends to be more difficult to keep everyone together.
What's included?
The rally is a three day event (Friday-Sunday), and we will ride approximately 1300km (800miles). Each night is at a different location.  The start location will be in the Ottawa, Ontario area. Once teams are fully registered more information on lodging and routes will be provided via your email address provided during sign-up.
The cost of the RRXE is $375 per rider. This gets you registered into the rally, a decal for your bike, a rally toque (the ultimate in high Canadian fashion, known to our US cousins as a beanie), two nights in remote hunting/fishing lodges, two dinners and two breakfasts.
During the initial check-in process which will take place the Thursday night before the rally begins, all riders will be required to sign a waiver form and have their bike inspected. Once the check-in process is complete, a decal will be provided that should be applied to your bike. The decal shows you have met the criteria and are ready to ride.
During check-in each bike will be inspected for:
Proof of insurance

Bearings (steering and wheel)

Appropriate tires (DOT knobby)

Suitability for off-road riding

General Condition

Working lights, horn, signals
Each team will need to have:
Tow rope

First Aid kit

Flashlight

Spare tubes

Tire Irons

Tire inflator

Appropriate GPS units

Appropriate tools to handle unforeseen trail side repairs
The route travels paved and non-paved roads and a few moderately difficult trails.  The route is suitable for bikes ranging between 650 – 1200 cc that are designed to travel off-road.  Although not technically difficult, the route does cover long distances over dirt, gravel, mud, rocks, and if conditions are dry, dust...lots of dust.  Expect to cover up 450kms (280miles) a day, and prepare for distances between fuel locations of up to 300 kilometers (190 miles).  Not to be taken lightly, the remoteness of the areas we will be travelling through can bring risks.  Getting hurt hundreds of kilometers from the nearest paved road is something that should not be taken lightly.
Like every year, the route provided is merely a suggestion.  This is not a race nor is anyone going to keep track of whether you rode the route or not.  The RRXE is all about long days in the saddle exploring new areas, riding isolated terrain designed for adv bikes,  and having a few cold ones at the end of the day with riding buddies.
Each rider and each team needs to be self sufficient, this is essential for your safety and enjoyment. There is no support truck. You will have to rely on your team mates…
When is the Roaming Rally Explorers Edition and how do I sign up?
June 20th – Check-in (Ottawa area - location upon registration) 
June  21st -23rd – Let's ride!
We are accepting a maximum of 30 people. We expect it will fill up quickly…
To register please send $375 to This email address is being protected from spambots. You need JavaScript enabled to view it. either by PayPal or email money transfer.
 
Please include in the payment comments field:
That you are registering for the Roaming Rally Explorers Edition (we have 2 rallies this year)

Your Name

Your Team Name

The bike you will be using

Where you live

An emergency contact name and number

com user name if you have one (we'll post a riders list there)
After you have sent payment, please send us an email letting us know.
What can we expect?
You can expect a weekend of riding with a bunch of like-minded people and enjoying a cold beer at the end of the day.  This is a very informal ride.  After the riders meeting on the Thursday night, the organizers become just one of the gang, and we ride the event like everyone else.  This ride is designed for well-experienced adventure riders.  People who are used to travelling off-road on their bikes, being self-sufficient, having the skills and know-how of what to do if things go wrong.  This means we don't hold your hand.  We organize the route, the lodging, pre-riding the route and getting everyone together for a fun weekend.  This comes as a surprise for first time attendees but in the past it has worked well and we hope it does again.
Dinner and breakfast has been arranged for you while at the lodges on the rally, but you need to organize your own lodging and food for the check-in night (location provided with registration).  Also you will be responsible for your own lunches while on the ride, and booze at the lodges.
Navigation
The RRXE is a navigational ride.  Part of the challenge and fun is in the navigating.  GPS files will be provided the week before the rally or at check-in the night before. Each team must have a minimum of two GPS units that are capable of utilizing track files, but we strongly encourage every rider to have a proper GPS unit.  We do not distribute routes, we distribute track files.  Not all GPS units can use these files correctly, this is very important to understand.  Current models that will work are the Garmin 6X series, the Montana, the X76 series, the Rhino, etc.  GPS units that do NOT work properly are the zumo and nuvi series along with other car GPS units designed for automobiles. Smart phone apps may work, but keep in mind that we will be traveling in very remote areas without cell coverage.
If you are new to using track files we encourage you to practice creating, loading and saving tracks before coming to the RRXE.  Using a GPS on a motorcycle can be very dangerous.  Please do not look at the screen while your motorcycle is moving – pull off to the side of the road or trail in a safe manner and then look at your screen.
We look forward to riding with you!



Is It June Yet?
The Roaming Rally Team…