TCAT - The Prairies, Province of Saskatchewan
The crossover into Saskatchewan is unassuming at best. The easiest way to notice where the border occurs is to look for the place where the pavement changes to gravel. Other indicators are that the speed limit drops to 80 km/h, there is an RM of Livingston sign, and a sign indicating the highway has changed to Saskatchewan 753.
The length of the TCAT route through Saskatchewan is approximately 1731 km. After crossing the border the route heads further west 6 km (4 mi) before turning north on highway 980. This is a gravel road winding through the forest heading northward. Be ready for spectacular views of the forest in spots along this road.
In the middle of the stretch up highway 980 is the Moose Range Lodge, which offers gas, food, and cabins for rent. There are ATV trails around here that might make a fun break from the TCAT, and there are boat rentals available as well. If you like fishing there are several lakes near the lodge that provide fishing opportunities too.
http://www.mooserangelodge.webs.com/
The route then follows the 981 and several secondary roads over to highway 9, where it turns north into the town of Hudson Bay, where you can get gas, food, or lodging.
http://www.townofhudsonbay.com/
At Hudson Bay it is advisable to get gas and food as a minimum, as the next stretch is the longest portion of the prairie route with no services, 285 km. You'll head north out of town on highway 9, which quickly becomes a gravel road. There are spots along this stretch of road with great views as well, so be on the lookout for scenery.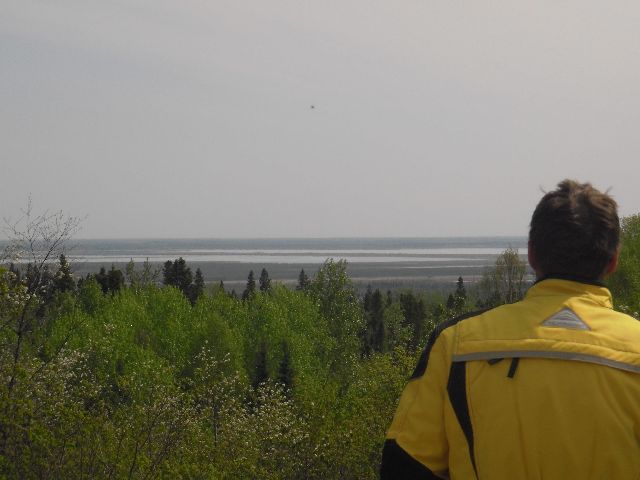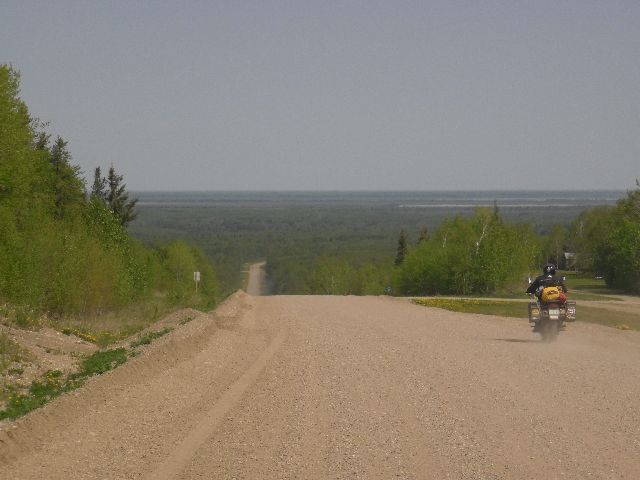 You will turn onto highway 55 and head west again toward Nipawin. This road is wide, fast gravel, but be prepared for occasional traffic. Once you get to the pavement it is just over 32 km (20 mi) until you will turn north on a trail. This trail is rough and rutted and follows a canal to the northeast. You will then follow highway 123 to the southwest, cut across to the resort village of Tobin Lake on the grid roads, and then follow highway 255 back to highway 55, which will then take you into Nipawin. At Nipawin you will find all services, and if you're the sort that likes to stay in hotels it is advisable to find a room here as it is over 250 km (150 mi) to the next available hotel at Waskesiu. It's also a good idea to get gas and food here too.
http://www.tobinlakeresort.com/main.htm
Leaving Nipawin, the TCAT takes you across a somewhat unique bridge. This bridge is not only quite high for a Saskatchewan river crossing, it is composed of a rail bridge on top with a single lane traffic bridge underneath.
Make sure to obey the traffic light, or you may wind up having to try to turn around on a narrow bridge.
From here the route goes north again, heading up past the village of Whitefox and into the forest. Here you will find another technical option, and like the others the bypass around this technical section is for those who don't want to struggle through deep sand with their bikes.
Once through here it is a short ride to the start of the Harding Road, which is a forestry road that curves from north to west. About ¾ of the way down this road you will come to the next technical section option. The technical route runs northwest from the Harding Road into the Narrow Hills Provincial Park, and while not extremely difficult is probably more difficult than the previous technical sections. It is very sandy and has more elevation changes than the previous technical sections, but also has many scenic views and is worth riding if you can manage it. Experienced off-road riders will not have too much trouble working larger bikes through here, but be prepared to fight with the sand a bit.
http://www.saskparks.net/NarrowHills
Harding road will spit you out on highway 106, a paved road running north into the emptiness that is northern Saskatchewan. From here you head north 16.5 km (10.3 mi) to the Narrow Hills Provincial Park and turn west onto a small gravel road that is barely a road. If you need food or fuel, proceed north past this turnoff and you can fill up at the Caribou Creek Lodge, which you will see 1.6 km (1 mi) north of the turn just off the highway to the west. If you take the technical route it will take you directly to the Caribou Creek Lodge, and you will head south from there to the turnoff.
If you are looking for a break from the route to ride some trails, Narrow Hills is full of ATV trails that you can ride on your bike. These trails are quite sandy, so they'll be more fun if you unload your bike to help it float on the sand better. Also, if there's been some rain the wet sand is more packed and is much easier to ride with a bigger bike than dry sand.
From highway 106 you head west 5 km (3 mi) and turn north onto another very minor road. There are some dirt piles pushed up in spots along this road to try to prevent truck traffic, but it should be OK to proceed on a motorcycle. In fact, these piles won't really stop a truck either, and I suspect that they were put there just to keep the road from being a "main route" for cars.
Also, there are a few small stream crossings along here, but the photo shown was taken in May on a wet year.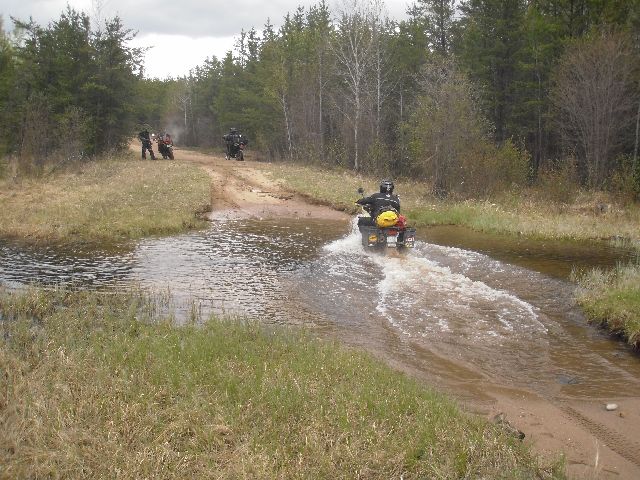 I've seen maps with this road numbered 912, but I find it hard to believe that this road would be a numbered highway!
Further north, you turn west on highway 913, which is a major gravel road. Follow 913 as it curves south, then west, and then south again. At 8.4 km (5.2 mi) past the Whiteswan Lakes turnoff you will again turn west onto a gravel road that will take you north and around to highway 926. You'll follow this over to 969 and head into Montreal Lake, where gas is available.
From Montreal Lake the route follows highway 969 southwest to Highway 2, which is paved. Note that this section of 969 has gates on it that may be closed (they are normally open). If these gates are closed you can backtrack a few km to Montreal Lake and then head west out of town to highway 2.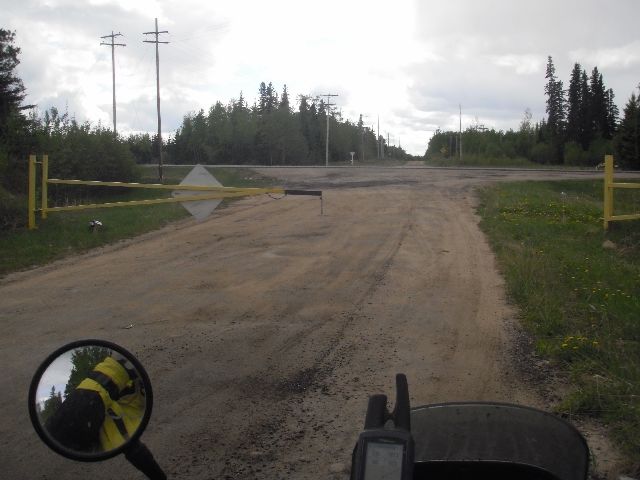 After you reach highway 2 you will head south to the Waskesiu turnoff and then west into Prince Albert National Park.
http://www.pc.gc.ca/eng/pn-np/sk/princealbert/index.aspx
At the park gates, you will have to stop and pay for park entry, but if you leave the park within one hour you can stop at the exit gate and get a refund. However, it will take you 35 or 40 minutes to get through the park if you ride straight through, so if you plan on getting refunded you should make sure you don't need to stop for too long in the town of Waskesiu. However, Waskesiu is worth a stop if you don't mind forfeiting your park entrance fee.
If you don't head into town, the route cuts across from the park entrance road to highway 263 and heads south through the National Park. Highway 263 is paved, but has just enough curves to be interesting. After you leave the park the road curves to the east, then curves to the south again near Christopher Lake.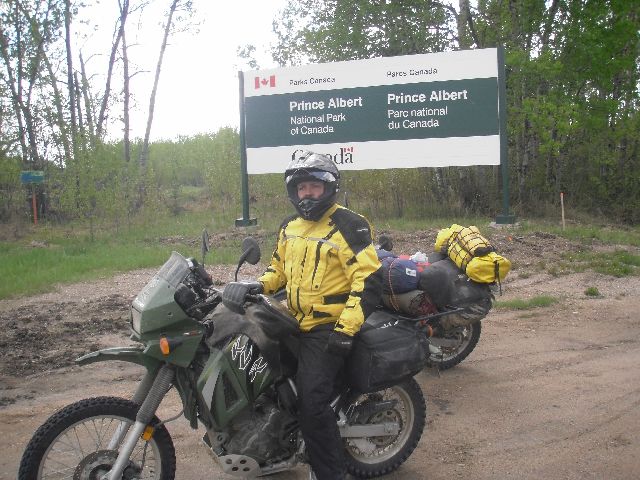 From here you continue south on gravel instead of curving east again with the pavement. You will head through the Little Red River Indian Reservation, and then follow the grid roads west and south for 23 km (14 mi). From here the roads get a bit more interesting as you close in on Prince Albert.
There is a technical section just north of the city of Prince Albert that is great fun, but be prepared for a steep climbout on the city end of things. Again, a good off-roader can handle it on a big bike, but if worst comes to worst the technical section is short enough and easy enough that you can backtrack and take the roads into Prince Albert.
Prince Albert is a city of around 35,000 people, and as such you can find a host of services here. You will head east to the bridge and then head south across the North Saskatchewan River. Once across the river go 4 or 5 more blocks and turn west on 15th Street West, also highway 302. Take highway 302 west out of the city.
Follow highway 302, a paved highway, for 25 km (15 mi) west of the edge of Prince Albert, and turn south into the Nisbet Forest.
http://en.wikipedia.org/wiki/Nisbet_Provincial_Forest
This forest contains a host of trails that you can ride with your motorcycle, and the route runs right through the middle of it. We at the Saskatchewan Dual-Sport Club have built some trail maps for the Nisbet Forest. These are not complete, but give you a good overview of the trails available to ride. There are images posted here, and .gpx, .gdb, and .kml files for the trails are available for download.
http://www.saskatchewandualsport.com/forum/viewtopic.php?f=8&t=34
(You may have to sign up to the club to get access to these maps, but membership is free!).
It is also OK to camp in the Nisbet Forest, but please be extremely careful with any fires you have and make sure that you do not burn the forest down! Also, please pack out any garbage.
The Nisbet Forest contains what is probably the toughest technical route in the prairie section of the TCAT. That is not saying too much, but if you are riding something like an R1200GS you should make sure your off-road skills are up to the task. There is a steep sandy/loamy hill down to and up from a creek, with a small bridge and a tight turn at the bottom. Large exposed tree roots make this tight turn even more difficult, and you may need help manoeuvring a big bike through here. Once up the hill the trail improves somewhat, and there is a great view of the North Saskatchewan River at one point, but the trail deteriorates from there into a heavily rutted and usually muddy trail.
The rest of the technical section is very sandy and parts of it will be tough on a bigger bike. You can fight through it, but be prepared for some slow going and potential falls. The main route is also fairly sandy in a few parts, but for the most part is much firmer and easily passable on a large bike.
After reaching highway 11 you will head east down a nice, wide, packed, high speed sand road with gentle curves toward the St. Laurent Ferry to cross the South Saskatchewan River. These prairie ferries are small, but can be the only way to cross a river for many miles in any direction.
See http://www.highways.gov.sk.ca/ferry/ for information on the river ferries in Saskatchwan.
Once across the river, the road takes you up the hill to a gravel highway, number 782. Heading south, you join up to highway 225, which is broken pavement. This highway leads you along the east bank of the South Saskatchewan River past the Batoche National Historic Site, which is where the Riel Rebellion of 1885 took place. It was here that Louis Riel and Gabriel Dumont led a band of First Nations and Metis people against General Middleton in the final rebellion against Canadian Government oppression in Western Canada. If you have time, it is worth a stop to learn a bit about Canada's history.
From here the route takes you along some backroads through the One Arrow reservation, birthplace of Tom Jackson, a moderately famous Canadian singer, songwriter, and actor. After crossing highway 312 the route follows the South Saskatchewan River for about 10 km (6 mi) before heading eastward and southward along the grid roads to the town of Alvena.
Here you will find fuel and confectionary items are available at the Co-op station from 9:00 AM to 5:30 PM 6 days a week, with an hour off from noon until 1:00 PM. These types of hours are typical of small town prairie gas stations.
The route heads across highway 41 south of Alvena on a road that reduces from gravel to dirt. You will then skirt the west side of Buffer Lake on dirt roads crossing farmer's fields. You are now well into the agricultural section of Saskatchewan, where almost all land is farmland, so it is important to stay on the roads around here. Also, these roads are composed of a fine topsoil dirt surface, and after a rain they can be impassable. If you are riding here in wet weather it is advisable to wait for the roads to dry or to find a gravel or paved road bypass around this section.
The route heads straight south from here, with one two-mile jog to the west just before crossing highway 5. If you need big city services this is a good spot to split off, as Saskatoon is about 32 km (20 mi) to the west on highway 5. Saskatoon has a population of about 250,000 and offers a few decent places to purchase motorcycle parts and tires.
http://www.ffunmotorsports.com/
http://www.prolinemotorsports.ca/motorcycles.htm
If you require KTM parts or service there is a KTM dealer in Martensville, about 8 km (5 mi) north of Saskatoon on highway 12.
Heading further south, you will follow some seldom-used grid roads, crossing highway 16 on the Blucher Road. This road takes you south past the tiny town of Bradwell, and about 2.5 km (1.5 mi) south of town you will turn west onto the first of many canal roads on the TCAT prairie section. It doesn't matter at this point which side of the canal you select to ride on, but if you choose the north side make sure that you switch to the other side at the next grid road.
Following this canal road you'll find some faster sections where the road is smoother and some slower sections where there are some minor ruts. Eventually you will reach the north end of Blackstrap Lake.
Blackstrap is a man-made lake that is part of the irrigation system in this area, and you will ride up onto the dam at the downstream end of the lake. Use caution as you approach the dam, as the road rises up and if you come over the hill moving too fast you may not be able to stop in time. Proceed west across the dam, and then turn south.
The route skirts the western shore of Blackstrap Lake for 1.6 km (1 mi), and then heads out to the grid roads. You will pass through the town of Shields heading south, and then head west to Dundurn, just across highway 11.
Dundurn has fuel and food available, and you should make a stop here as it will be some distance before you see these again on the route. With a 10 km (6 mi) detour off the route you can get food and fuel 74 km (46 mi) from Dundurn, but the next food and fuel on the route is over 230 km (143 mi) along the route.
The narrow road heading south through this pasture is a treat. Keep a sharp eye out (and on the GPS) to make sure you turn west again at the right spot. From here there is a bit of sand over the next 1 km (0.6 mi) or so, but it gets better. The trail turns into a great grass/dirt road through several km of pasture. There is at least one more gate along here, and again, ensure it is left the way you found it. At one point the trail follows roughly along the edge of a field, and may be tough to see for about 0.8 km (0.5 mi), but following the GPS carefully should get you back to a more established trail. After several more km of this you will come to highway 219.
At highway 219 you turn south and then turn east again when you see the church a short distance off the highway to your right. After 5 km (3 mi) you turn south onto a canal road. The canal should be on your left as you ride south on this road. Stay to the left, next to the canal, at the "Y" 1.6 km (1 mi) south. The grassy road you should take looks something like this.
When you get to the next gravel road, about 1.6 km (1 mi) south of the "Y" turn west again. Take this grid road for 7.3 km (4.5 mi), and note that there is one point where the main road curves south and you will have to "turn" right to maintain your westerly direction. You will turn south along another canal road, and again, you should have the canal to your left. Follow this canal road, and where it crosses the next grid road you should cross the canal on the grid road and continue to follow the canal road south with the canal on your right.
Continue to follow this road south and east, and somewhere close to 13 km (8 mi) further south you will get off of this road and onto the grid road on your left. This road will take you across highway 15 and into Broderick.
If you need food, fuel, or lodging at this point you can detour 10 km (6 mi) to the west on highway 15 into Outlook, which has all services. If you just need food you could check out the Terrace Dining Room in Broderick, which apparently has a new patio.
http://www.terracediningroom.com/
From Broderick, continue straight through town and head south out of town on the same road you rode in on. (While you are not supposed to end a sentence with a preposition I just can't bring myself to write "road on which you road in"!) Follow the road to the right around the Broderick Reservoir, and at the south end of the reservoir turn left to get off of the main grid and onto the canal road. You should see a small rest area at the spillway.
Follow this canal road as it winds its way south. In a southerly direction you'll go about 18.5 km (11.5 mi) until the road curves directly east. Turn south at the next grid road, and then west when you come to the tee. From here you will ride past the Gardiner Dam, the 4th largest earth dam in the world, for the next 5 km (3 mi).
http://en.wikipedia.org/wiki/Gardiner_Dam
The Gardiner Dam forms Lake Diefenbaker, which is a very long, thin lake that follows the South Saskatchewan River valley for around 200 km (124 mi), south and west from the dam. I am not certain whether there is a restaurant on the southwest side of the dam, as stated in the Wikipedia web link above, so don't count on being able to get a meal here.
From the dam you head west on highway 44 and turn left onto the next dirt road. At the fork in the road, stay to the right and climb the hill and turn right onto a short canal road leading back to the highway. Turn left and head west again. When the highway curves to the north, you will continue straight west on the gravel for 2 km (1 ¼ mi). Here you turn south and head downhill through a shallow valley. There are several turns to make over the next 31 km (19 mi), with some great roads to ride in between.
From here you ride west on the grid road for 13 km (8 mi) to highway 42, then proceed straight across highway 42. From here there is an 8 km (5 mi) stint heading west and then another heading south. Turning west again you head into the Monet PFRA Community Pasture. This is a scenic ride down a rolling, gently curving road through about 27 km (16 mi) of wide open prairie.
Once outside the pasture the route zigzags south and west on the grid roads into Kyle.
The above link contains a good business directory to help you find services in Kyle. For restaurants I can recommend the Cedar Villa on Centre Street just south of Railway Avenue, which makes a MASSIVE omelette at breakfast time if you're hungry.
The Tumbleweed Inn is right on Highway 4 and was good to us too.
The route heads out of Kyle on Railway Avenue and quickly turns north and then west again on the grid roads. After a 10 km (6 mi) stretch heading west the route heads south and then west into White Bear.
While this wonderful trail continues on the TCAT is forced to leave it and head back onto the grid roads due to the  "No Trespassing" sign. Someone has bought a huge chunk of land along the river here, fenced it all off, and put up very prominent signs forbidding access. Please respect this and any no trespassing signs you may encounter while travelling the TCAT or anywhere else in Canada.  
Following the grid road for 13 km (8 mi) west, with one small excursion closer to the river, you will eventually head south into the Riverside Regional Park. Camping is available here, as well as swimming and golf.
http://www.saskregionalparks.ca/index.php (Use the dropdown to select "Eston Riverside")
You'll ride through the park and then follow the river for about 6 k (4 mi) more before heading back up to the grids to get over to the Lancer Ferry.
[Insert Pic SK30 here]
http://www.highways.gov.sk.ca/ferry/
Coming up the river hill the route quickly heads west again on the grid roads. These roads are straight, but they are dirt roads and can be rutted or have mudholes in spots. Jogging west and south on the grid roads, the route will lead you to the village of Sceptre.
Sceptre doesn't have a regular gas station, but you can get fuel at the Co-op on the west side of town via their cardlock system. The store attendants will use their cardlock card to let you fuel up. There is a restaurant in town, but don't count on being able to get a meal there – the proprietor tends to serve only when he feels like it.
The TCAT heads south out of Sceptre down the road on the east side of town, and takes you into the Great Sand Hills. The Great Sand Hills cover about 1900 square km (730 square mi) and rise up to 50 feet above the surrounding prairie. There is a small site along the route where you can pull off the road and view some of the sand hills. You are allowed to walk into the hills, but unfortunately riding in them is not allowed.
The route continues south, and runs on many rutted grassy trails along the west edge of a large private pasture area. About 35 km (22 mi) south of the Great Sand Hills rest area you will come to a sign that indicates it is a private road ahead. I have ridden through on this road, and it is one of the most fun roads I have ever ridden, but please stay on the road, and if someone approaches please stop and tell them what you are doing – in particular that you are just passing through and that you plan to stay on the road. Another tip – watch the rutted grass roads in this area. You can ride ruts fast, but if you catch the side you'll be in for a nasty ride to the ground. See this video for an example of what can happen on these rutted roads when you make a mistake.
http://www.youtube.com/watch?v=JJhr__6XR6c
You'll head through a large pasture to the east and south of Bigstick Lake before getting onto the grid roads again, and after a few more kilometres of rutted grassy roads and some more gravel you will come out at highway 21. From here you head south, crossing highway 1 and then looping west on a short gravel loop into the town of Maple Creek.
Maple Creek has a population of around 2500 people, and all services are available. There is a decent hotel at the northeast end of town on Highway 21 with a restaurant and bar, and several gas stations. If you're there around the end of June or beginning of July you can look into the rodeo, which Charlie Boorman made famous in his book "Extreme Frontiers".
You'll head out of the southeast side of Maple Creek, and zigzag south and east on the grid roads, then head straight south and straight west, coming back to highway 21. Then you'll go north up the highway for 12.6 km (7.8 mi) and turn west into the Cypress Hills Interprovincial Park.
http://www.saskparks.net/CypressHills
http://www.albertaparks.ca/cypress-hills.aspx
http://en.wikipedia.org/wiki/Cypress_Hills_Interprovincial_Park
The Cypress Hills Interprovincial Park is Canada's only Provincial Park managed and coordinated between two provinces, Alberta and Saskatchewan. It is worth spending some time here, riding some of the trails (stay on the trails please!) and taking in the views. The "Hills" are actually a set of large plateaus that rise about 200 m (660 ft) above the surrounding prairie. These plateaus are areas that the glaciers went around during the last ice age, and thus retain many of the geological features of the area from before the last ice age. This gives the Cypress Hills a much different feel than the surrounding area, and makes it seem more like the mountains than the prairies.
The Centre Block, which is the area you will ride into first, is smaller and located entirely in Saskatchewan, while the West Block is the larger area and straddles the Saskatchewan-Alberta border. The Blocks are separated by what is known as "The Gap" which is a 25 km (15 mi) section of empty prairie between the two. There are services in both Blocks, and lots of camping available. However, this is a popular destination for camping in summer, so it is best to plan ahead if you want to camp here.
Riding out of the Centre Block you will head west on the "Gap Road". This is a rolling, curvy, rough road that takes you through some of the most spectacular wide open spaces the prairie portion of the TCAT has to offer.
When you get to the West Block, you will pass very close to Fort Walsh. If you have time it is worth turning south on highway 271 to visit this fort. This Canadian National Historic Site is most famous for hosting Sitting Bull after he routed Custer at the Battle of Little Big Horn. This caused some strain in Canadian-American relations at the time, but fortunately things have been patched up since and all you Yanks are welcome to come ride the TCAT.
Just 3.1 km (1.9 mi) past the Fort Walsh turnoff there is a turnoff that takes you north. Head up this road and stay to the right if you see a split in the trail. This road ends about 3.5 km (2.1 mi) off the TCAT at the Conglomerate Cliffs, one of the most spectacular viewpoints in Saskatchewan. You'd almost think you weren't on the prairies, if it wasn't for the endless flat land you can see beyond the cliff right in front of you.
Heading back to the TCAT you head down a hill into a more wooded area. There is a Ranger Station about 3 km (1.8 mi) from the Conglomerate Cliffs turnoff, and also a primitive campground in this area. From here it's a short 9 km (5.4 mi) ride to the Saskatchewan-Alberta border.
Back to TCAT - Prairies Introduction