Name:  Alberta Overland Route
Distance: 2240 kilometers
Duration: 4-8 days
Rating: Primarily class 1 and 2 roads, an optional class 3-4 section
Accommodations: Camping and hotels available
Creator: Lee Kroeker
Location: Southern Alberta
Please Note:  All photos provided by Lee Kroeker unless otherwise specified
Introduction:
The route description assumes a clockwise direction of travel.  The Alberta Loop is a multi day route around Southern Alberta.  The world class of scenery of the province of Alberta makes this trip one of a kind.  From the Badlands of western Alberta to the majestic Rocky mountains, the Alberta Loop is an assault on your visual senses. The terrain is a mix of paved and gravel backroads that bring you to some of Canada's most popular tourist destinations mixed with remote back country area's of the province that few know about.
Track #1 Start Calgary (N51° 02.695' W114° 03.785')
Leaving Downtown Calgary the route takes you past the new Music and Arts center, across an old silver bridge and through historic Inglewood. The street is narrow and lined with old-style buildings from the turn of the century. There are many excellent little shops and restaurants, as well as Kane's Harley Davidson (& Diner), and an old fire hall converted to a pub; The Hose & Hound. Another notable spot and one of my favorites is Spolumbo's Deli about half way down the street on your left.
The route then follows 17th avenue (with plenty of services including fuel) out to Chestermere, then onto a small paved secondary road east away from the city.
On a sunny summer day the smells of the crops lining the roads will add to the relaxing, easy run east as you zigzag your way across a mixture of paved and gravel roads toward the town of Rosebud. As you start to head northeast and get nearer Rosebud you will run along irrigation canals and catch glimpses of old defunct rail lines that follow and cross the river valleys. The valleys carve their way through an otherwise gently rolling landscape, but can offer some dramatic viewpoints.
Rosebud is a tiny community known for its dinner theater and a wander around the picturesque town is well worth the time. Heading north and climbing out of town, you continue to be surrounded by rolling hills and fields and will begin to see hints of the Badlands area you are nearing. The multi-colored and layered glacial valleys become more dramatic heading north.
The route will see you briefly join the busy highway #9 before jumping onto gravel up to Hesketh, another tiny farm community. You will cross another steel truss bridge and hug the valley wall before rejoining the flat top prairie again. Dropping into the Red Deer River Valley briefly you turn north and run pavement roads up to the Bleriot Cable Ferry. As you run down into the Valley to the ferry the elevation change and the view is spectacular. The ferry crossing is very quick. The pavement up the other side is sometimes dusty so use caution on the long sweeper that climbs back up to the top. As you turn south there is a short pull out to a viewpoint overlooking the Canyon from the east side.
You will then come upon the town of Drumheller, just past the Royal Tyrell Museum. If History and Dinosaurs are of interest to you, then this is not to be missed as it boasts one of the planets best collections of complete Dinosaur displays.  Drumheller itself sits in a deep Canyon and has any and all services you might want before you begin to travel on a two lane pavement road south to the town of Wayne. There are seven wood-decked steel truss bridges between the highway and the Last Chance Saloon and Campground.  Wayne is nestled in another river valley a short way off the highway. They have a store, Pub / Restaurant and a campground tucked behind the Pub that is popular with motorcyclists, and has many live music events throughout the summer.
The road surface on the gravel sections all have good solid bases but can be very loose and marble covered if they have been recently graded. Caution should be used at all intersections as most are uncontrolled and cross-traffic on the larger roads is not required to stop. The area is predominantly agricultural and has farm machinery and many driveways and access points along the narrow country roads. The area can be very hot and humid depending on the time of year and early morning is usually the most pleasant for travel. Typically any time after the middle of May is comfortable for riding, with June being the rainiest month for the area. The season stretches into October but after the end of September the nights get cold.
Track #2 Start in Wayne, AB (N51° 22.927' W112° 39.665')
Depending on the time of year breakfast is reported to be available at the Saloon for campers and Rosedeer Hotel guests. A short run back to Drumheller will afford many more options for dining. A short detour over to the Star Mines Suspension Bridge is worth a look for those interested in a close up view of the river with a very short detour off the main highway.
Heading south again on pavement along the Red Deer River Valley there are a few interesting sights right beside the highway including the Hoodoos near where the television show "Hell on Wheels" was filmed, and the East Coulee Bridge (one of last surviving all-wood truss bridges). The Atlas Mine, an old coal mine offers tours during the summer and is interesting for the history of the area. The route jumps off pavement here and climbs out of the valley onto the west side to run south to Dorothy, notable only for an old grain tower and church from decades passed, crossing the river again on a long steel & wood bridge you run pavement for a short while before rejoining easy gravel down to the cable ferry at Finnegan.
Atlas Coal Mine
The landscape along the valley bottoms are a mixture of deciduous trees and sage brush, with brown red and black layered hills typical of Badlands topography. Up above the Valleys the landscape is either lush agricultural field supported by irrigation sprayers or stark, muted tones of sage and wild grasses. The roads of the area are typically narrow, but good coarse pavement, or wide, hard-based gravel.
After Finnegan you cross the river on a bridge this time before detouring east to Dinosaur Provincial Park. On a Sunny day once down in the Valley, surrounded by prehistoric Badlands hills and the smell of the sagebrush and river, it is truly like going back in time. There is camping available and should your schedule allow it is spectacular both in daylight and with the dark night sky above your campsite.
From there you follow wide, fast gravel almost to where you intersect the Trans-Canada Highway at Brooks. Brooks is a Cattle processing town and worth a miss unless the smells and sites of feed- lots turns your crank. Typical by now 2-lane pavement takes you south, jumping off onto gravel country roads intermittently as you make your way across the flat vast farm land that typifies the Brooks area. You cross the South Saskatchewan River twice before passing through Bow Island which is another farm service community with services available. A short run east along Highway 3 dumps you off onto gravel heading toward Elkwater in the Cypress Hills area of southern Alberta. As you get close to Elkwater the terrain starts to undulate far more and the gravel road gets narrower and more entertaining. Again watch the cross roads as country folk tend to ignore some of the control signage.
Despite the muted elevation changes along the track, the Cypress hills area is one of the highest spots between the Rockies and Appellation mountain ranges and you will see tall pine trees in large amounts for the first time.
The lake on the north side of the town site is pretty and the Hotel is first rate (book ahead if you plan to stay). The campsite on the lake is nice with lots of Pine and birch trees and there are other options close by if you prefer more primitive and remote. There are many gravel and dirt trails in the near vicinity if you have an early finish to your day and want to take in a bit of entertaining riding. Use caution doing so in the early part of the season or during rainy conditions as the soil has a lot of clay in it and gets very slippery.
Beauvais Lake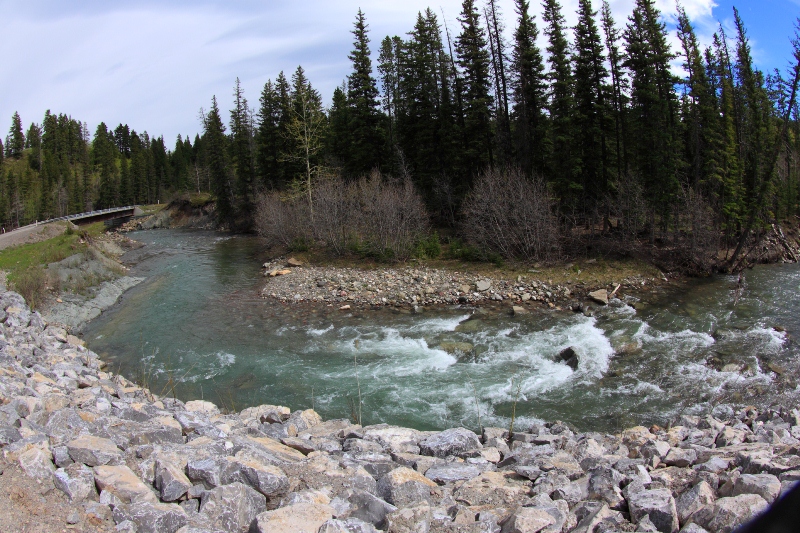 Track # 3 Start in Elkwater Town site (N49° 39.650' W110° 16.704')
Climbing away from the campground and lake you are on a narrow badly surfaced one lane paved road lined by pine trees. The road opens up onto the highest area of the park alternating between thick forest and meadows. The road surface is best described as oiled gravel, a sort of pavement.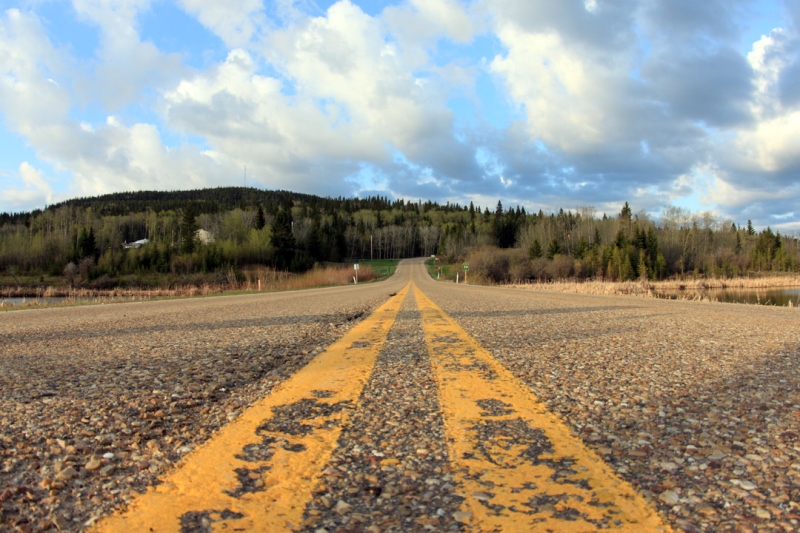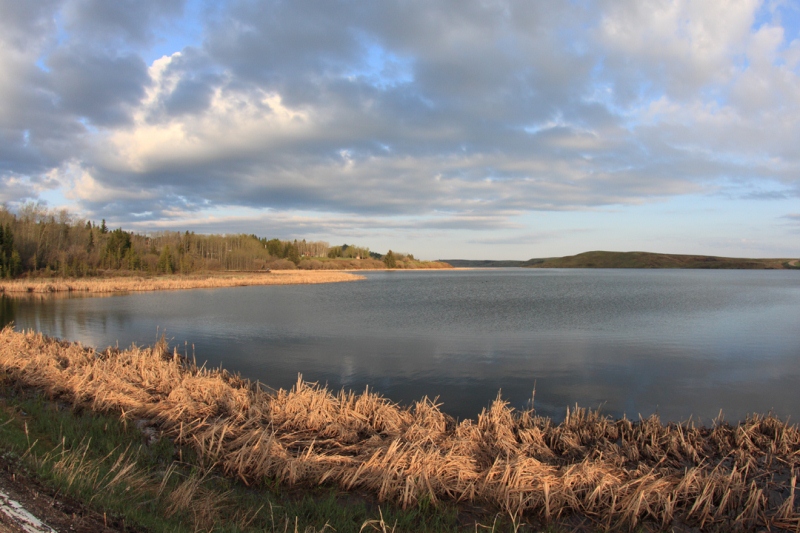 Elkwater Lake
As you head south out of the Park the elevation drops and the road quickly changes to gravel, wide and fast but sparsely traveled. It winds its way south changing roads many times as the landscape takes on a dry, pale look typical to southeast Alberta and northern Montana. Eventually it joins pavement (The Red Coat Trail) as it runs west toward Milk River and Cardston. This section is very easy and has a lot of straight stretches of pavement with very minor hills and grazing land with contrasts of bright greens and pale reds and browns. The Rivers are brown and turbid compared to the pale greenish blues that the mountain streams are known for.  As you get nearer Cardston you will start to see the Mountains appear ahead of you like a cloudbank does on the ocean.
Pincher Creek Windmills
As you travel west of Cardston you will see the pavement improve as does the scenery. There are many great options for side trips along this stretch including Police Outpost park, Writing-On-Stone Provincial Park, Payne Lake and of course Waterton National Park. The roads in and out of the park are good pavement and certainly busier than what you may have become accustomed to the last day or two. The campsites in Waterton are very busy and tend to book months in advance, but Payne Lake is a great alternative if not as picturesque.
Payne Lake at sunset
This track is longer (mileage-wise) simply because despite any side trips (Waterton excepted) it won't take long and you will make better time not having as many photo ops across from Elkwater to Cardston. After Waterton that all changes, as you start to get into a twisting gravel track that has incredible scenery all along its length. Castle Falls is a remote spot but well worth the effort, and the road is mostly gravel that sees a lot of traffic on weekends. There is random camping in many areas along its length so if money is an issue and you can do without a fire pit and table, options are plentiful.
Looking south at Waterton
Prince of Wales Hotel, Waterton Park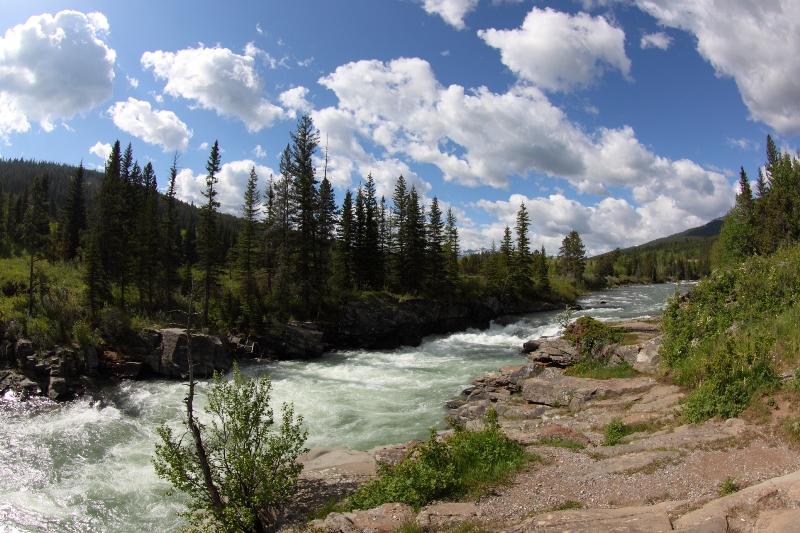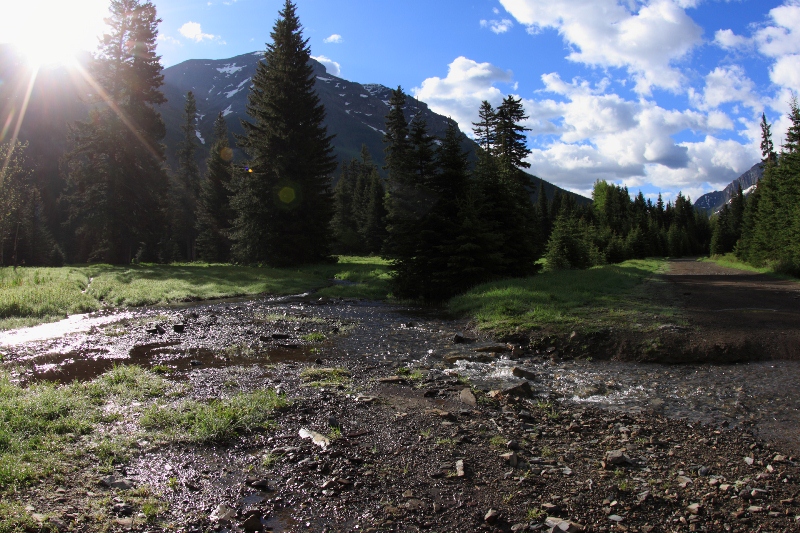 Castle falls varies greatly depending on the season and with water levels. It is a relatively small falls with turquoise water in the spring and early summer and although great for pictures not good for swimming then. Later in the season the water clears and drops to the point of being great for swimming and cliff diving once you have done the proper recon. The south loop of the campground has the best spots but even the north loop is nice. All the spots have tables, fire pits, and a host is on site to purchase firewood from.
Typically in Alberta, due to the climate, there are fire bans during late May until the rains of June reduce the dry conditions to a safe level.  If you like having a fire when you camp, then July and August are better bets for camping.
Track #4 Start in Castle Falls Campground (N49° 26.802' W114° 19.512')
The road is generally wide and good, but dusty gravel to start and tends to have a variety of traffic from campers to ATV & dirt bikes. Sight lines are good but there are a few tight corners near small bridges and where elevation changes require switchbacks so don't get too carried away. After this point (N49° 27.261' W114° 24.554') the road becomes far more rocky and less traveled as generally only 2 wheeled vehicles will get all the way through because of the Lynx Creek bridge washout from the flooding in 2013. Use caution in this area as there are sections that have been slowly eroding along the road bed. At the washed-out bridge you can clearly see an ATV detour on the south side of the trail that crosses the creek, generally very shallow and short. The banks are typically easy enough for a loaded Adventure bike to navigate especially with a helper.
Lynx Creek Bridge
The trail continues to be wide but rocky and gains altitude quickly as you near Blairmore. There are spectacular mountain views and lots of evidence of past forest fires along the trail. You enter Blairmore from the south and wind through the residential area before getting to the main street, with fuel available before you join the Crowsnest highway briefly. Unless you really must have a Tim Horton's Coffee, go just a little further after fueling to The Cinnamon Bear, just past the Trunk road turnoff on the south side of the highway. The Cinnamon Bear has great fresh baking, sandwiches and better coffee.
North Burmis Rd
On the edge of Coleman you turn north and climb up out of town quickly hitting the Trunk road and a return to gravel. Elevation is gained quickly and early in the season you will see snow along the road sides. The road can be muddy when wet but is no issue to travel as it has a very solid base with only rare soft spots. The trees are thick along most sections of the trunk road and wildlife is common so don't rush along here.
Powderface Trail viewed from Sibbald 
Optional Technical Loop (Dutch Creek/Allision/Atlas)
Dutch/Allison/Atlas-Creek Road trail
Allison Creek Road
The conditions change from year to year and are very weather-dependent as to how passable it is. When you join the trail from Hwy 3, west of Coleman, look for the Atlas Campground and staging area sign. The road is paved leaving the highway and continues for a couple of kilometers until it runs off onto gravel heading north. There is a gas-plant just before the campground so watch for truck traffic. After passing the campground and staging area the road continues to gain elevation and is in fairly good condition and well-traveled. As it continues north it deteriorates surface-wise with a softer base and in wet weather becomes muddy. As the road narrows and follows the creek it has a lot of surface dirt / mud but the base is good and solid. As you continue you come to some concrete barricades that are easily bypassed by motorcycle or ATV and across a narrow two track path before reaching an excellent new ATV bridge with steel rails and a wood deck.
Dutch Creek Road Washout
The trail north of this bridge is rocky with a coarse surface with drainage channels cut across its width, and narrows to an ATV trail for a short section across a rock-slide area. There are usually warning signs at each end of this section, but the sight lines are good there. North of this, the trail is generally hard, and coarse and fairly wide passing across two old, but short wood bridges that have deteriorated every year as there is no official maintenance on this trail. Nothing wider than a Quad or bike with bags will be able to pass to this area so you will see very little traffic except dirt bikes and ATVs.
Dutch Creek Road
The trail is pot-holed and has lots of overgrowth and soil blown in over the base so it can be muddy and slippery in sections but traction is good with knob-style tires. The next obstacle that you will find is an old washout that has dirt berms built up at each end from when the original clean-up was done. Early in the season you may find a small amount of water flowing through the bottom, but nothing serious (if it is, then turn around and go back as the next creek will be far too high).  The slope down to the bottom is steep (with a two foot wide flat bottom) before a slightly less-steep but gravel and dirt mix uphill. The key is to go slow until your front crosses the flat bottom and then don't hesitate giving it even throttle for the short climb. I have done it fully loaded on a 990 Adventure without any drama and so have a 1200 GS and Super Tenere'.
The trail is wide and chunky-rock based north of this until you come to the only creek crossing. This location had a bridge that was damaged in the floods of 2013 and it was removed entirely in the fall of 2014. We did the creek crossing with only a foot and a half of water in late May of 2015 and it was very tough with extremely high flow rates pushing us down-stream. Only the most experienced and confident riders should attempt this early in the season, and it should be noted that the winter of 2014 was a low snow year so water levels were lower than usual for us. There is a muddy descent into the creek on the south side (even when the conditions are dry from ATV traffic) and a low spot in the creek bed as you enter (so deeper water). I would strongly recommend getting your boots wet, doing recon before descending with your bike to the creek. The north climb from the creek, up to the road base is fairly steep and is mud over rock, but with decent traction (if you stay in the rut the dirt bikes use).
 Just north of the Creek crossing you will come to the only section that is deeper dirt (or Mud) as the trail turns East, but it is very short and can be worked through (even on a big loaded bike) and it does have a solid road-base (somewhere) underneath. After this the trail has a lot of soil blown on top of the gravel base and tends to have a lot of puddles and can be slippery for in-appropriate tires. The trail winds through the trees for the last few kilometers to join the Trunk road at the Dutch Creek Campground.
The scenery and adventure is a couple of notches higher than the Trunk road and is just over 50 kilometers from Highway #3 to where it joins the Trunk road. It would be most enjoyable for confident riders with knob-tire equipped bikes any time after June.
Once again random camping is allowed all along the trunk road and weekend warriors make for a busy route from Friday to Sundays. When you finally hit pavement at Highwood Junction you will turn left onto Highway 40 a wide, great quality road that takes you over the highest road pass in Alberta through Peter Lougheed Provincial Park. It is common to see Big Horned Sheep along here. You run between two mountain ranges and the scenery is fantastic. This section of track will be busier, but not by European standards.
Just after the highest point along highway 40 you will be turning left to take Dorian/Spray Lakes road which takes you to Canmore. The southern half of the road is wide, loose gravel unless it hasn't been recently graded. It is really a gravel super highway with lots of picture opportunities along its length. When you reach the Spray Lakes Dam the road drastically narrows and has poor sight lines, or in other words becomes far more entertaining. Use caution as it is a popular route from this point to Canmore. You will come to a spot that overlooks the town of Canmore and another small dam. The road is a bit wider but fairly steep and winding until you hit pavement just by the Olympic Nordic Training Center at the north end of the town of Canmore.
Canmore itself is a very touristy spot with every service you could need and as such, expensive. After Leaving Canmore you join the busy Trans-Canada Highway Up to the Banff National Park Gates. You will need a Park pass to go to Banff, Lake Louise and Jasper so this is the best time to get it. Banff has too much to offer for me to try to summarise it here so I will just go on with the track.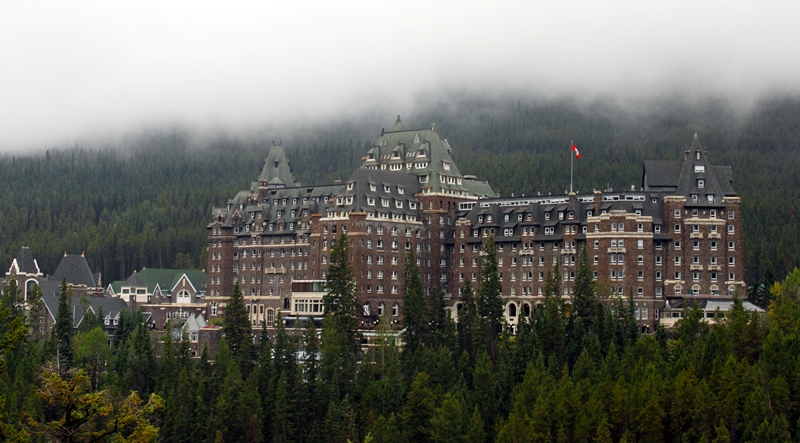 The Banff Springs Hotel
Shortly after passing Banff you will exit to your right onto the 1A secondary which is much narrower, and has a few one way sections so pay attention and stay right. This section until Johnson Canyon and the track ends is a fantastic winding piece of pavement joy.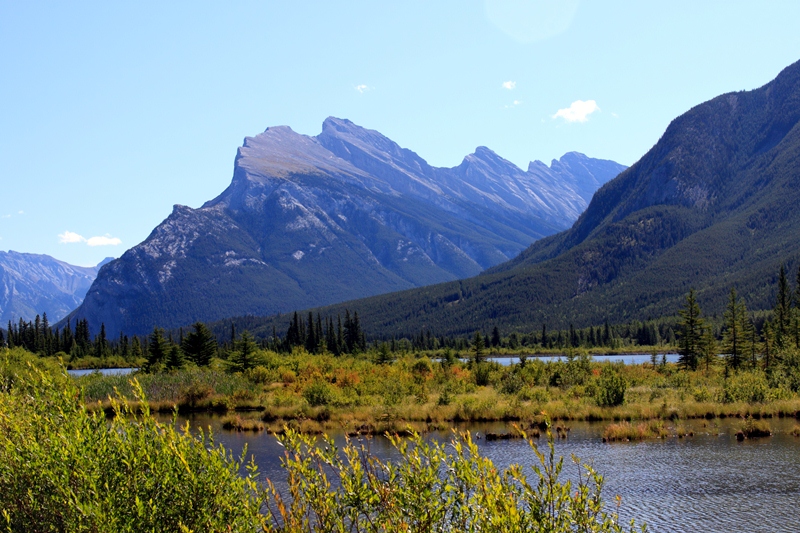 Track # 5 Starts at Johnson Canyon Campground (N51° 14.619' W115° 50.549')
This track takes you from Johnson Canyon campground to Jasper via highway 1A and Highway 93 known as the Jasper Parkway. It is a busy, well-traveled and breathtaking trip through world class scenery. There is enough to see along the way that it will fill a day or two limited only by your curiosity and attention span.
Castle Mountain along highway 1a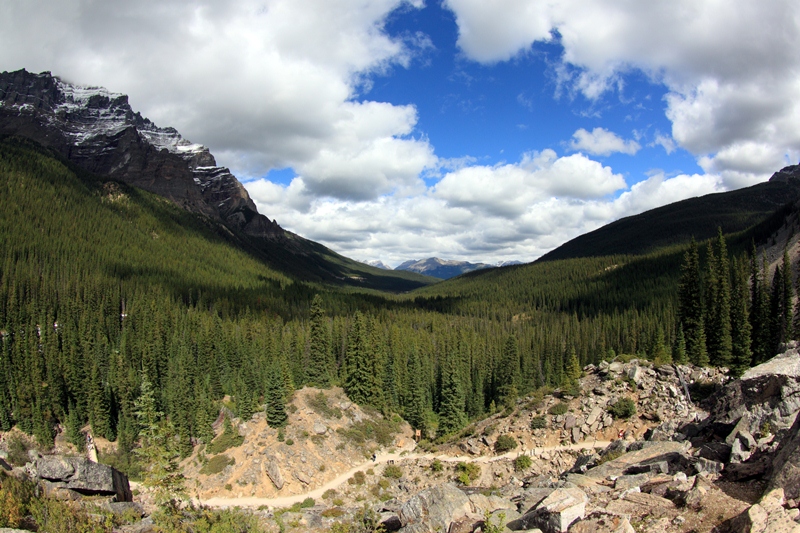 Moraine Lake Valley
The glacier tour and glass sky-walk are highlights as well as Athabasca Falls and Mount Edith Cavell Glacier, more for the road up than the glacier in that case. Before you even exit onto highway 93 you can fill a day at Lake Louise and Moraine Lake with picture taking and a trip onto the lake at Louise. If you choose not to camp at the wonderful Johnson Canyon then Lake Louise has many indoor accommodations that will wow.
Highway 1 A is a great way to avoid the extremely busy Trans-Canada and is a treat with its wild-flower lined ditches bracketed by tall pine and spruce groves. Highway 93 runs between two mountain ranges and features azure lakes and rivers, snow-capped peaks and entertaining pavement that will make you wish there was no speed limits in certain sections. Thankfully you will have to keep it slow enough that you won't burn up your brake pads when you stop repeatedly for pictures.
Unless you have incredible range on your bike you will need to stop at Saskatchewan River Crossing for fuel, and it is the only opportunity along the stretch between Lake Louise and Jasper. It is busy and unremarkable and not worth going inside to brave the hoards from the tour buses other than to use the rest room if needed.
Then, 35 kms north you will come to a huge sweeping curve that swings to the left and then quickly turns right and climbs a steep hill with a pull out on the right near the top. It is a great place to drag the pegs and then stop for a picture looking south down the valley. You will feel the air cool noticeably even in the heat of summer and not far north you will come to the Glacier center and a chance to join the throngs of tourists for a ride on the giant Glacier Busses. Nearby there is a new attraction that allows you a unique view high up on a cliff face to walk out on a glass bottomed arced walkway high above the canyon.
The scenery never really notches down along this road and it would be a waste to do it on an overcast day.
Campground in Jasper
Close to Jasper the track turns left onto the old highway now called 93A at the Athabasca Glacier. This has a great short trail system that is worth a hike and a few pictures. As you head north from there you can take a worthwhile side-trip up to Mount Edith Cavell road. The pavement is usually in poor condition but nothing a little operator care and an Adventure bike can't handle. The road ends at a parking lot and an extremely short hike to the glacier and melt pond. Take off your shoes and cool your feet, it won't take but a second. There is a hostel just before the glacier if that is your preference in accommodations.
Jasper itself offers a vast variety in sights and types of lodging, from campgrounds (with showers and proper washrooms) to Bed and Breakfasts, to Cabins and high-end Hotels. The Sulfur Mountain Gondola will give you a wonderful view of Jasper and the surrounding mountains. Don't miss the hike to the top once you get off the Gondola. Maligne Lake is another great spot to explore with a short hike to explore the deep slash canyon before carrying on to the end of the road to the amazing milky blue lake and boat tour (if you want to see Spirit Island).
Track #6 Starts at Jasper (N52° 52.061' W118° 04.308')
Leaving Jasper on Hwy 16, also known as the Yellowhead Route, you will follow this busy 2 lane highway east along the Athabasca River (to your right) until crossing over to the south side. This particular stretch of highway 16 is as picturesque as it gets and is my favorite section of the highway for pure scenery. Traffic often comes to a stop for Big Horn Sheep and Elk who are not intimidated by vehicles. There are pull outs all along here for safe picture taking. You will pass the Jasper sand dunes on your left as you continue along this track, with mountains seemingly on all sides.
Eventually this gives way to more heavily teed landscape as the mountains fall away behind you and you get to the divided 4-lane and approach Hinton. The track turns south just before Hinton, but you will want to detour into Hinton for fuel as there is nothing on the southbound track until Nordegg.
Highway 734 south of Nordegg.  

The most northern bridge on the trunk road before joining Highway 11.  There is a steep gravel switchback on the north side of this bridge
As you go south on a well-engineered paved 2 lane you will pass a strip mine on your right, not long before the track comes to a junction and turns right onto gravel to the tiny town of Cadomin. The town had become a ghost town but in recent history has had a bit of a revival as city people came looking for cottages. When I last came through, there was a small pub with gas pumps out front, but I would not count on the fuel being there. Along the track you will pass another busy mining area, but the huge strip-mining trucks do not share the road with you as they have their own parallel route. To your left you will see evidence of the past century and the old rail line and trestles that once served the early coal mining boom in the area. The last remaining remnant of the town of Mountain Park is the cemetery that locals still maintain. The path becomes narrower and much less traveled after Mountain Park until it connects with the Trunk road but is good gravel with incredible high mountain scenery. Always be aware of your surroundings when you stop for pictures as the area has a healthy Grizzly population. I keep a small air-horn and bear-spray handy when riding alone in the Rockies.
Mountain Park Cemetary
Once you join the Trunk Road turning south, the road is well traveled by commercial truck traffic and is wide, solid, and can be dusty until you connect with Hwy 11 near Nordegg. Be sure to run with lights on even in daylight and keep to the right.
You will again need to top up your fuel in the tiny town of Nordegg just south of Hwy 11 and east of where you exited the Trunk road. There is a Motel, with a restaurant and fuel available next to it, at the store. There is a short side trip west from Nordegg to Crescent Falls that also has a campground. The falls are great, and if you like photography, worth a look.
The track returns to the Trunk road and again heads south from Hwy 11 and about 10 km south you will descend a steep switchback down to a long steel-truss bridge over the North Saskatchewan River. You then Climb back up and into a heavily treed area that twists its way south. This section of Trunk road is less busy than the northern, but can be loose and dusty and has more recreational traffic, especially on weekends. Just before you reach Ram Falls Campground (on your left) you will see a grass-strip runway to your right. The park has signage along the road and usually has a host. The western end of the campground is preferred as it is farther away from the dust of the road and closer to the falls. There is a good network of trails along the river valley that connect the campground loops to the viewing area at the falls. The campground has water, pit-toilets, firewood, fire-pits and tables.
Track #7 Starts Ram Falls Campground (N52° 05.250' W115° 50.713')
Leaving Ram Falls Campground you immediately go down a slight hill and over another wood-decked, Steel-Truss bridge and up another hill between very black, coal rich hill sides. The road varies in surface condition and width as it twists its way south. The landscape varies from long straight swampy wide-open areas to tight tree-lined hill sides where caution in the loose gravel corners is advised.
Along with typical wildlife like Mule deer, as you get further south you need to watch for free-ranging cattle that like to stand in the middle of the road. There are also wild horses just south of the Mountain-Aire Lodge, just south of the Red Deer River. There is random camping as well as a few small campgrounds along the trail heading south. Weekends can be busy but weekdays are typically quiet other than some commercial traffic.
Because of the cattle you will cross a number of steel cattle guards along this southern section of the Trunk road, and are nothing to worry about, other than they can be slippery when it rains. There are numerous tight corners along the trail and with the loose gravel surface should not be taken too aggressively as some of the areas are unforgiving with the sharp long drop-offs and thick lodge-pole pines lining the road.
The trail has many opportunities to explore side roads and photo ops, including Trans Alta road that is a rocky, rutted but scenic track down to the Ghost River Valley. Random Camping is allowed all along the western end of that track.
Limestone Mountain Lookout
Just north of Trans-Alta road you will run off the gravel and onto narrow but smooth pavement that continues to the village of Waiprous a small cottage community with no services. There is a sharp downhill curve that crosses a narrow wooden, one-lane bridge at Waiprous, so be careful!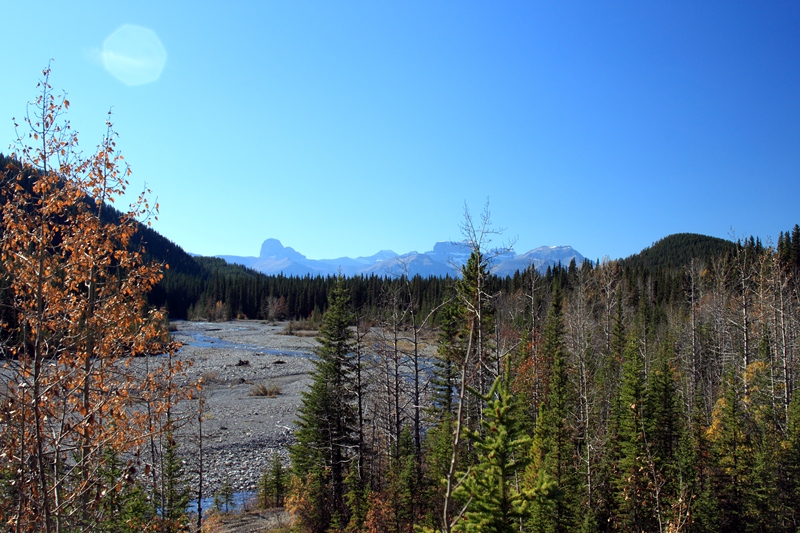 South of that the pavement widens slightly and carries you south to the busy highway 1A, where you turn left (east) to Cochrane where fuel, food and other services are available. From Cochrane you climb a long hill and join divided 4-lane highway that takes you along a busy commuter corridor to the bustling city of Calgary. Calgary is a vibrant, clean modern city with the typical traffic issues. There are many one-way streets in the downtown core, but many great sights as well. Rather than try to describe all the things to see and do and all the excellent restaurants and hotels, I will just provide the links.
http://www.calgaryattractions.com/home.html
http://www.visitcalgary.com/explore-calgary