Name: Mackenzie Heritage Trail
Distance: 420 km
Rating: Class Five
Accommodations:  Camping
Location:  Western BC
The Mackenzie Heritage Trail is also known as the Grease Trail.  This is one of Canada's premier overland routes albeit it is rarely traveled due to its difficulty and remoteness.  John Barge was a great resource when putting this page together (THANKS).  John has traveled the trail and has some valuable information to share.
The trail can be traveled from east to west or vice versa, many groups will choose west to east as it gets the trail clearing sections and mud over with first.  This trail is notorious for having fallen trees.  A chain saw is not a recommendation, it is a must.  Spare chains and a spare saw are highly advisable.  In recent years the pine beattle, forest fires and wind storms have and do contribute the amount of fallen timber.  If your lucky another group will have finished the trail right before you :)
There are a few notable water crossings that can be deep after recent storms and or early in the spring.  Planning your expedition in late August is not a bad thing to consider.  Recent rains will make the trail notably more difficult, the mud sections will get far more serious when wet.
Did we mention this is a remote trail?  This cannot be stressed enough.  Often times a year or two will go by before a group of trucks attempt this route, getting stuck, having a breakdown, medical issues and any other serious issue becomes much more of a problem when you are days away from help.  Plan and pack accordingly.  Cell phones will not work, in fact the last place a cell will get coverage is in Quesnel and Bella Coola (limited cell carriers).  Having a satellite tracker is highly recommended. At Anaheim Lake there is a landline which may or may not be available for use.
Fuel is something that must be given serious thought.  420 km plus getting to and from the trail and keep in mind you wont be getting highway mileage.  Most trucks will require auxiliary fuel for both their trucks and their chainsaws.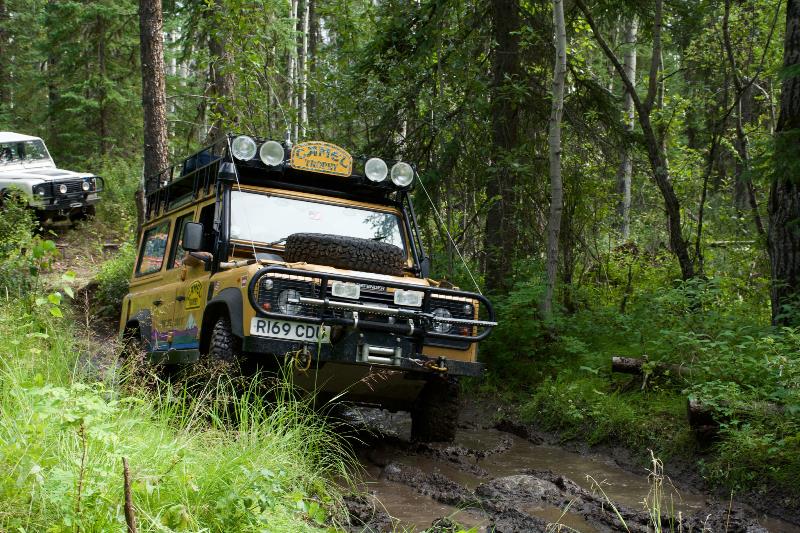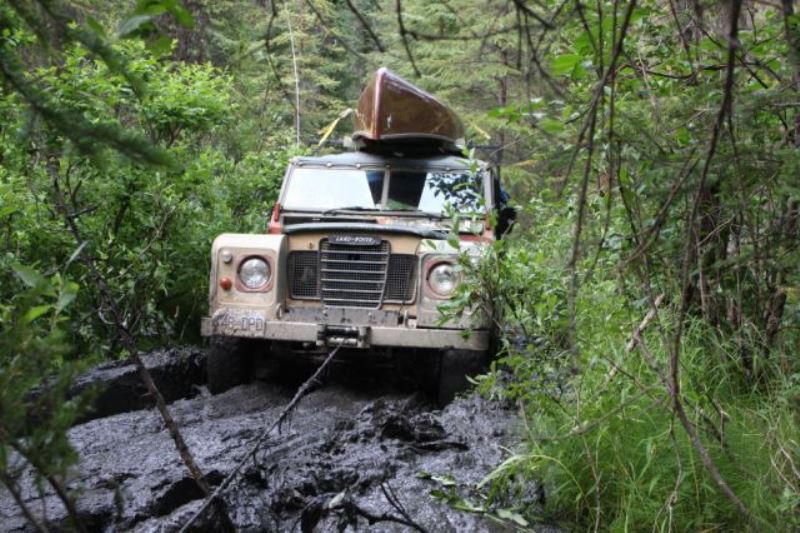 If you are extremely lucky and don't experience any fallen trees the route can be done in three days.  Allowing for 5 or more days is a more likely scenario.  This means having enough food and water on board to survive the days on the trail and any extra days you might encounter due to delays.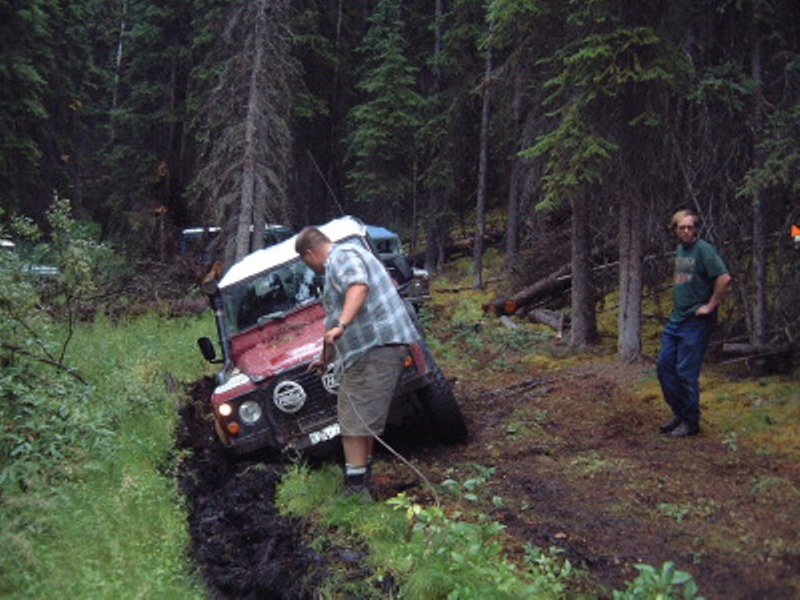 The trail has a lot of tracks that hide rocks.  These rocks are often the cause of vehicle damage.  Another cause for concern is the branches from fallen trees, several groups have experienced punctured tires, radiators and any other exposed parts.  The terrain demands a slow pace with lots of scouting.
Here are a few links to various forum threads from groups that have done the trail.  A great source of information.
http://forum.ih8mud.com/threads/alexander-mackenzie-trail-2013.681268/page-10
http://alre.club/Forum/index.php?topic=32.0
http://www.roverlanders.bc.ca/roverforum/viewtopic.php?f=7&t=2689
A video put together by some "overlanding celebrities" 
If you decide to travel the Mackenzie Trail, please consider it a full blown expedition type of trip.  It would be very easy for things to go bad and being out in the middle of nowhere could make a small disaster into a large disaster.