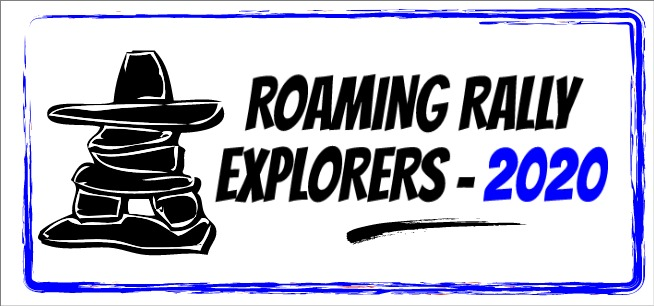 Roaming Rally Explorers – 2020
After a fantastic 2019 Explorers Edition of Roaming Rally we're back again for 2020!
Last year we explored the isolated back country of western Quebec on dirt roads, atv and snowmobile trials, and dusty WOT gravel that definitely had our adrenaline pumping!  Based on feedback, many of the riders asked for a bit more trails with a bit less dust. We've taken that feedback to heart and decided that it was time to bring the RRXE to the Eastern Ontario region so we can explore some of our local favorites.
Designed for street legal dual sport and adventure bikes, the RRXE has a goal to explore remote places using non-paved roads whenever possible.  The emphasis is on exploring new areas and getting out into the backcountry on as much dirt and gravel as possible! We try to include a bit of everything each day, from dirt roads, atv and snowmobile trials, and some WOT gravel to get the adrenaline pumping!
As usual on the Explorers Edition, you can leave your tent and camping gear at home.  We'll be staying in hunting/fishing cabins like civilized people!  Waiting for us each night will be a cooked meal, cold beer, hot showers, comfy beds, and a big breakfast in the morning…we'll really be roughing it!
As usual, this RRXE2020 is a team event. Riders need to be on a team. We don't want anyone riding alone. Teams are used with safety in mind. The reason behind the team strategy is that if someone gets hurt or breaks down, one team member can stay with the injured/stranded rider while the other team member(s) can deal with getting help. 
What's included?
The rally is a three day self-guided GPS event (Friday-Sunday), and we will ride approximately 1000km. This year we will be using the same lodge for both nights.
The cost of the RRXE is $400 per rider. This gets you registered for the rally, a decal for your bike, and a rally toque (beanie to our US cousins) the ultimate in Canadian fashion, two nights stay at a remote fishing lodge, two dinners (beer and wine included) and two breakfasts.
During the initial check-in process which will take place the Thursday night before the rally begins, all riders will be required to sign a waiver form and have their bike inspected. Once the check-in process is complete, a decal will be provided that should be applied to your bike. The decal shows you have met the criteria and are ready to ride.
During check-in each bike will be inspected for:
Proof of insurance

Bearings (steering and wheel)

Appropriate tires (DOT knobby)

Suitability for off-road riding

General Condition

Working lights, horn, signals
Each team will need to have:
Tow rope

First Aid kit

Flashlight

Spare tubes

Tire Irons

Tire inflator

Appropriate GPS units

Appropriate tools to handle unforeseen trail side repairs
The route travels paved and non-paved roads and a few moderately difficult trails.  The route is ideally suited for bikes ranging between 650 – 1290 cc that are designed to travel off-road.  Although not extremely difficult, the route does cover long distances over dirt, gravel, mud, rocks, and if conditions are dry – dust, so bring goggles if you have them. And of course it wouldn't be a Roaming Rally without a few water crossings. Expect to cover up 350kms a day, and prepare for distances between fuel locations of up to 200 kilometers.  Not to be taken lightly, the remoteness of the areas we will be travelling through can bring risks.  Getting hurt far from the nearest paved road is something that should not be taken lightly.
Like every year, the route provided is merely a suggestion.  This is not a race nor is anyone going to keep track of whether you rode the route or not.  The RRXE is all about long days in the saddle exploring new areas, riding isolated terrain designed for adv bikes, and having a few cold ones at the end of the day with riding buddies.
Each rider and each team needs to be self sufficient, this is essential for your safety and enjoyment. There is no support truck. You will have to rely on your team mates…
Itinerary
May 21th – Check-in & Riders meeting
May 22nd -24th – Let's ride!
What can we expect?
You can expect a weekend of riding with a bunch of like-minded people and enjoying a cold beer at the end of the day.  This is a very informal ride.  After the riders meeting on the Thursday night, the organizers become just one of the gang, and we ride the event like everyone else.  This ride is designed for experienced adventure riders – people who are used to travelling off-road on their bikes, being self-sufficient, having the skills and knowledge of what to do if things go wrong.  This means we don't hold your hand.  We organize the route, the lodging, pre-riding the route and getting everyone together for a fun weekend.  This comes as a surprise for first time attendees but in the past it has worked well and we hope it does again.
Accommodations
This year we will be staying at a fishing lodge where the accommodations consist of separate cabins. Covered by the rally registration fee is 2 nights lodging, 2 dinner (including beer and wine), and 2 breakfast. Also provided are all the necessary beds, bedding and towels to shower with.  You just need to bring your own toiletries and personal items (i.e., toothpaste, shampoo, etc.). Also extra ear plugs for the inevitable snoring that your buddies will do.
Like last year, we have made arrangements for those riding in from out of town to stay at the hotel where the check-in will take place on Thursday night. The hotel will have secure bike parking, includes breakfast Friday morning, and has a pub/restaurant attached to it for some night time hydration! 
The details regarding locations and how to go about how book the hotel will be provided once you have registered for the rally.
For lunches you are on your own. The route does travel through small towns where you may be able to find some food, but we are riding through isolated areas, so make sure to bring some water, Redbull and trail food with you.  (i.e., powerbars, beef jerky, etc).
When is the Roaming Rally Explorers & how do I register?
May 21st – Check-in & Riders meeting
May 22nd -24th – Let's ride!
To registry please send $400 to This email address is being protected from spambots. You need JavaScript enabled to view it. either by PayPal or email money transfer.
Please include the following info with your registration:
Your name

Your team name

The bike you will be riding

Where you live

An emergency contact name and number

An Advrider.com user name if you have one (we'll post a riders list there)
After you have sent payment, please send us a follow up email so we will have your email address to send you rally info.
Navigation
The RRXE is a navigational ride.  Part of the challenge and fun is in the navigating.  GPS files will be provided the week before the rally or at check-in the night before. Each team must have a minimum of two GPS units that are capable of utilizing track files, but we strongly encourage every rider to have a proper GPS unit.  We do not distribute routes, we distribute track files.  Not all GPS units can use these files correctly, this is very important to understand.  Current models that will work are the Garmin 6X series, the Montana, the X76 series, the Rhino, etc.  GPS units that may NOT work properly are the zumo and nuvi series, along with other car GPS units designed for automobiles. Smart phone apps may work, but keep in mind that we will be traveling in very remote areas without cell coverage.
If you are new to using track files we encourage you to practice creating, loading and saving tracks before coming to the RRXE.  Using a GPS on a motorcycle can be very dangerous.  Please do not look at the screen while your motorcycle is moving – pull off to the side of the road or trail in a safe manner and then look at your screen.
We will be able to help with the loading of tracks to your units at check-in on Thursday if you're having trouble.
Also, please be aware that although we have worked hard to make sure the GPS files are as accurate as possible, believe or not, it is possible that it could contain an error.  So if the track tells you to ride into a lake…don't do it!  Also there is always a bit of track drift between different units, and because we have to filter the tracks down to 500 waypoints or less so we can load them on as many different types of GPS units, there will be some sections where the route might be lacking in some detail.
Also investing in a Spot Tracker, or Garmin InReach type satellite tracker is not a bad idea. Where we are going will be very isolated back country where cell phone service will be non-existing and spotty at best.  Having perhaps one of these type of units on your team would be a wise idea.
Tires
Many people have been asking about what tires will be appropriate.  As was mentioned in the rally description, DOT knobby tires are recommended for this ride. While the terrain is not particularly technical, there will be some challenging sections.  Each day will include ATV/Skidoo type trails, long stretch of WOT loose gravel, and dirt roads.  And while an experienced rider may be able to "get by" with a less aggressive tire if conditions are dry, if we get any kind of rain, some of the sections can become extremely slick.
While we will not tell you what tire to buy, we would say that anything less aggressive than TKC-80 type of tire is not recommended...especially as a front tire. 
Examples of popular tires not recommended, K-60 Scout, Mitas E-07, Sinko 705.  These are all considered 50/50 tires, and are more suited for paved streets than for dirt.
Examples of tires that would be suitable would include, TKC-80, Dunlop D606, Mitas E-09, Pirelli Scorpian Rally, Motoz Tractionator Adventure, etc...
The ride will be at least 80% dirt, so choose a DOT knobby.
Have Fun, Don't Die!
The key to this type of event, is not necessarily being the fastest rider, but keeping a steady consistent pace.  Make sure to stop and smell the roses and snap tons of pictures, but take short stops.  Those teams with smokers on them have a definite disadvantage lol!
The real goal of the rally is for everyone to gather Thursday night, and go home safe and sound on Sunday.  A first aid kit should be on every vehicle along with knowledge of how to use it. We advise against taking unnecessary risks.
If you come across a water crossing for example and do not know how deep it is, stop and take a look.  If someone has an accident, please stop and help them out. Please remember these are pubic trails and roads. You will encounter other users. Always stay to the right. It becomes easy to be complacent after a day or two of trail riding and not seeing any oncoming traffic.
Be mindful of the rocks your tires kick up when passing other vehicles, or if you have a vehicle following you. The list could go on and on....please always err on the side of caution while on the rally. If you are tired, take a break.
For those of you have been to a Roaming Rally before, we look forward to catching up with you and having some fun out on the trails. For folks who are attending for the first time, we hope you enjoy the laidback nature of the event and enjoy meeting likeminded people.
Enjoy a break from the daily routine and have some fun!
We look forward to riding with you!

Is It May Yet?
The Roaming Rally Team…