The DIRT
Name: The Powder Horn Trail
Distance: Powder Horn - 24 kms return. Garnish - 72 kms one way.
Duration: 1 day
Rating: Class 5-6
Creator: Geoff Smith
Location: Eastern Newfoundland, on the Burin Peninsula
The Powder Horn trail runs from the Burin Peninsula highway, near the Boat Harbour intersection, to a long and narrow rock feature in the middle of the peninsula, which is known as the Powder Horn because of it's resemblance to a gun powder horn.
The original route was only about 24 kms return, but with the recent construction of an extension to the route, which connects to the out port community of Point Rosie, on the Fortune Bay side of the peninsula, you can now travel all the way to the Town of Garnish, some 72 kms away.
The original section of the trail is a very entertaining, hilly, twisty, and scenic ride through the stunningly beautiful high glacial barrens of the Burin Peninsula back-country. The extended section of trail beyond the Powder Horn Mountain is even more scenic, but is also quite challenging. It's rocky and very steep in places, and requires you to cross some rivers and marshes without the benefit of a bridge. This extended section is still a work in progress, but in it's present state as of fall 2011, it's still well worth considering, especially if you're up for a serious off road adventure and challenge. There is no cell phone coverage for much of this new route, so a satellite phone or Spot Tracker should be considered. The area is so remote that you will literally see caribou sleeping on the trail, as if they had never seen humans before.
Video shot during the summer of 2011…

{module Powder Horn Video|none}

All photos & video by Geoff Smith unless otherwise noted

The Trail head



Looking westward toward the east face of the Powder Horn




Looking eastward towards the west face of Powder Horn



Ascending the south end of the Powder Horn
{googleMaps lat=47.325327 long=-53.824081 zoom=8 width=600 height=480 kml=http://www.graveltravel.ca/kml/powder.kml}



Scouting the route ahead from a point roughly halfway to Point Rosie



Rugged but fun



Rocky trails never seem to offer much opportunity for style points

You can tell the locals are proud of their beautiful trail system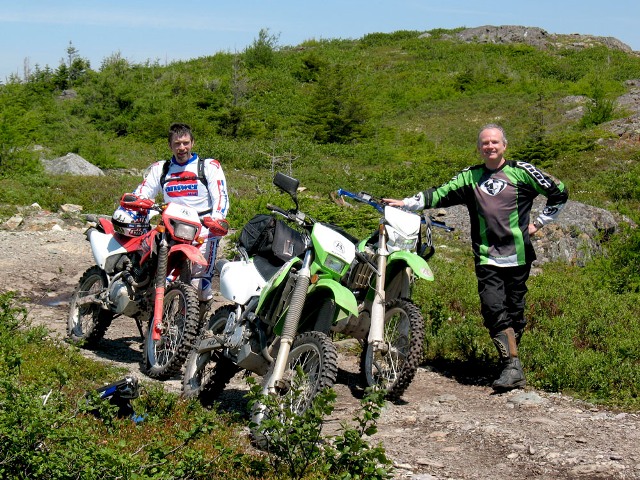 Happy customers

Useful Links

Area Information
Town of Garnish Information
Trail Information
Accomodations